EPA's Scott Pruitt removes 5 scientists from Board of Scientific Counselors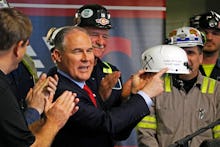 Environmental Protection Agency Administrator Scott Pruitt fired five scientists from the Board of Scientific Counselors and is contemplating replacing them with people who work for the very same industries the EPA is tasked with regulating.
The move, reported by the New York Times, is yet another action that Pruitt has taken at the EPA to replace academic research with corporate influence. 
EPA spokesman J.P. Freire told the Times that the decision was an attempt by Pruitt to "have people on this board who understand the impact of regulations on the regulated community" — in other words, those who work in polluting industries.
The change comes shortly after the EPA removed a bevy of scientific data about climate change from its website, including fact sheets on greenhouse gas emissions and explainers about what climate change is and how it works.
President Donald Trump's administration has waged a war on the EPA since taking office, beginning with the nomination of Pruitt, a fossil fuel industry supporter who, as Oklahoma attorney general, sued the EPA 14 times.
Trump has also proposed slashing the EPA's budget by 31%.