Nintendo Switch Next Shipment: Stock gets replenished regularly at Nintendo NY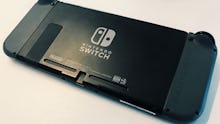 If you're an early adopter, it's been two months since your Nintendo Switch pre-order arrived. Others aren't so lucky. While some folks may have capitalized on stores refreshing their Nintendo Switch stock and getting alerts when they've done so, not every gamer can say the same. Buying the console still ain't easy, and Nintendo is partly to blame. When the Nintendo Switch's next shipment will come remains a mystery, so stock is still hard to come by — unless you know where to look.
Nintendo Switch next shipment: Nintendo's New York store gets new supply every day
It's not every day a store sees a Switch restock — unless that store belongs to Nintendo. The gaming company's flagship U.S. location in New York City gets a new shipment of Nintendo Switch units every single morning. You may want to start booking that trip to the Big Apple right now.
The Nintendo Store continues to be the best way to procure a Switch. Many retail outlets like Best Buy, Target, Toys R Us and others saw added stock around the release of Mario Kart 8 Deluxe. But while other stores may sporadically receive new shipments, the Nintendo Store had a regular schedule for buyers. 
Nintendo Switch next shipment: When will Amazon, Target, Best Buy, Walmart and more experience the same?
The Nintendo Store in NYC proves highly convenient for buyers in New York, but what about everybody else? It's unclear if average stores will see regular Nintendo Switch stock anytime soon. History has shown that Nintendo has trouble keeping up with stock for its newly released consoles. But eventually buying a Switch may be as easy as walking into a store and getting a Wii U or 3DS. Let's hope E3 2017 brings us some details in the way of the Nintendo Switch's next shipment.
Check out more Nintendo Switch news and coverage
Looking for more Nintendo Switch news? Check out how blind gamers are using the Nintendo Switch. Nintendo's left Joy-Con issue turns out to be a hardware problem — here's how to solve it. Find out how to buy a console amidst the recent restock. Learn why the Switch cartridges taste so bad. Check out our comparison photos sizing up the Switch to the Wii U GamePad (part one and part two), or find out how to make use of ethernet without the dock and the best way to get alerts when new stock arrives.