'Minecraft' Nintendo Switch Release Date: Five things to know about the Switch version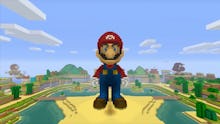 Minecraft is one of the most popular video games ever made, so a Nintendo Switch version was inevitable. If you've absolutely been itching to take Minecraft on the go — with exclusive Mario content — there's good news: You can get it very, very soon.
Five things you need to know about Minecraft for Nintendo Switch
While you're probably familiar with Minecraft by now, each version brings something different to the table. Here's what you need to know about Minecraft for Nintendo Switch.
1. It's still Minecraft.
Mojang didn't reinvent the wheel here. This is still the same game about breaking down materials and using those materials to build, create and survive at your leisure. The company hasn't added a cinematic story mode or other groundbreaking features to the Switch version. 
This package includes the "Super Mario Mash-Up Pack" DLC that came to Wii U in 2016. If you've always wanted to play as Wario in Minecraft, now's your chance.
2. The world will be 13x bigger than the Wii U version.
Mojang recently did a stream with further details about Minecraft for Switch, and Nintendo Wire got all the details. On the technical side of things, the game will run at 60 frames per second, on par with the PS4 and Xbox One versions. 
The maximum world size will be "medium," or in more specific terms, 3072 x  3072 blocks. That's far bigger than the 864 x 864 world size found in the Wii U/PS3/Xbox 360 versions, but not quite as big as the PS4 and Xbox One's 5120 x 5120 measurements.
3. You'll be able to transfer worlds from Wii U to Switch, but not at launch.
If you have worlds you absolutely can't let go of in the Wii U version, you'll be able to bring them to Switch, but not right away. The Mojang stream didn't provide a specific date or additional details on exactly how that's going to work — all you need to know is it's coming.
4. It supports four-player split-screen and eight-player online play. 
Minecraft is a multiplayer experience as much as anything, and the Switch version is no different. You can play with up to four players on one screen locally, or with up to eight players in an online server. Currently, the Switch doesn't have support for voice chat outside of a mobile app, so you might want to get your friends' Skype IDs — or Discord server — before jumping into Minecraft on Switch.
5. You can get it very soon.
The last, and most crucial, thing you need to know about Minecraft for Switch is you can buy it soon. It's out on the eShop on Thursday for $29.99. The game includes the Mario DLC and will be supported with the most recent updates from the game's other versions. Right now, it's only a downloadable release, but there will be a physical release at an unannounced date, according to IGN.
Check out more Nintendo Switch news and coverage
Looking for more Nintendo Switch news? Check out how blind gamers are using the Nintendo Switch. Nintendo's left Joy-Con issue turns out to be a hardware problem — here's how to solve it. Find out how to buy a console amid the recent restock. Learn why the Switch cartridges taste so bad. Check out our comparison photos sizing up the Switch to the Wii U GamePad (part one and part two), or find out how to make use of ethernet without the dock and the best way to get alerts when new stock arrives.