This little girl told a Trump impersonator he's "a disgrace to the world"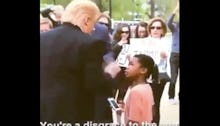 In a viral video making rounds on social media, one little girl did not mince words when she encountered a Donald Trump impersonator. 
"You're a disgrace to the world," the young girl said.
You can watch this new feminist hero roast fake Trump below:
The man in the video was Anthony Atamanuik, host of Comedy Central's The President Show. Earlier on Sunday, the network posted this longer video clip of the encounter:
It's unclear whether the girl knew she was speaking with Trump himself or his impersonator, or if she's an actor herself. Either way, she didn't hold anything back. Atamanuik tweeted about the cute and spunky moment, calling young girl "brave, funny and smart." He also said she made those sharp remarks all on her own.
Other Twitter users agreed with Atamanuik, effectively coronating her as the leader of the Trump resistance. Here are some highlights: