11 affordable, accessible places for a last-minute Memorial Day getaway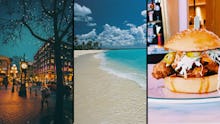 Summer Fridays, beach weekends and nightly rosé sessions will be here before you know it. The Hamptons houses and Palm Springs cottages may be booked for Memorial Day weekend, but plenty of destinations are ready and waiting to help you kick off vacation season. 
We compiled a list of affordable, accessible spots, where you'll be able to see much of the city within three days — and do some relaxing at the same time. 
Austin, Texas
Hot weather and hot sauce are two good reasons to go to Austin, and the end of May is the ideal time to visit before the city reaches unbearable temperatures. Make reservations to dine at June's All Day, which Food & Wine recently named one of America's best new restaurants. You can load up on New American-ish dishes like Mexican-spiced ball soup and a fried chicken sandwich with ranch-coated kohlrabi slaw — and chase it down with a frosty glass of rosé. 
Other classic Austin bites to devour over the three-day weekend (don't limit yourself to just three meals a day, if you know what's good for you) include breakfast tacos at Juan in a Million or TacoDeli, melty queso at Torchy's, a bowl of freshly milled pasta at Emmer & Rye and the famous ribs and brisket at Franklin Barbecue if you're willing to brave the hourslong line.
To build up an appetite between all that eating, spend some time walking through the picturesque Zilker Park and take a dip in Barton Springs Pool, a public swimming hole surrounded by greenery that puts every other cities' pools to shame. If you like to be out on the water, go kayaking in Lady Bird Lake or grab a six-pack and head out for a tubing excursion on the Guadalupe River. 
Queens, New York
You've seen the Empire State Building and walked across the Brooklyn Bridge, but if you haven't immersed yourself in the culture and diversity of the outer boroughs, you haven't really experienced New York. There's more than enough in New York's biggest and most populated borough to keep you entertained for a holiday weekend. Plus, New Yorkers tend to travel over long weekends, so the city will be relatively crowd free. If you're flying in, both of New York City's airports, LaGuardia Airport and John F. Kennedy, are actually in Queens, which will cut down on travel time considerably. 
While Queens has dozens of distinct neighborhoods, limit yourself to one or two each day to make the most of your time. Astoria is home to both Silvercup Studios and Kaufman Astoria Studios (where some of your favorite summer movies and TV shows, like Orange Is the New Black, are filmed). Visit the Museum of the Moving Image to brush up on your film history and culture, and then go for gyros and grape leaves at one of the neighborhood's beloved Greek restaurants, like Zenon Taverna or Taverna Kyclades, a favorite of George Clooney's when he's filming in the neighborhood.
In nearby Long Island City, you can walk along the East River at Socrates Sculpture Park, which has a summer display of intriguing goat sculptures by New York artist Nari Ward and free morning yoga classes on weekends. Shop outdoors at LIC Flea and Food, home to local vendors purveying everything from barbecue to cold ramen and antiques dealers selling accessories, souvenirs and furniture. 
Flushing is home to the Queens Museum, the Queens Botanical Garden, the Queens Zoo, Citi Field (unfortunately the Mets are out of town for MDW) and an enormous Chinatown. When you're not visiting one of the neighborhood's main attractions, walk, or rather, push your way, down packed Main Street, where you can duck into malls for skewered meats, dumplings and homemade noodles in basement food courts. Skip the trendy downtown brunch and head to one of Flushing's expansive dim sum restaurants, where you can choose steamed, fried and meat-stuffed carbs off of rolling carts, accompanied by an endless stream of hot black tea.   
Atlanta
Called the "New York of the South" by some (but not all), Atlanta is a city that you can easily see in three days. Shop at Ponce City Market and stop into the central food hall to fill up on small bites like fried chicken at Hop's Chicken and fried catfish tacos at Sean Brock's Minero. On the Ponce City rooftop, you'll find a mini amusement park with spectacular city views, including a look at the Atlanta BeltLine, which you'll want to stroll up at your leisure. Stop in to Krog Street Market for a few more bites and shopping and eventually pull over at Ladybird Grove for a pitcher of punch and s'mores by the campfire on the patio.
If you're looking for unique attractions, take a loop on the SkyView Ferris Wheel, book a CNN studio tour, visit the massive World of Coca-Cola, walk through the Centennial Olympic Park, a 21-year-old relic from the 1996 summer games, and learn about Civil Rights history at the King Center. 
Spend an afternoon wandering through Decatur, Atlanta's neighboring suburb, where you can visit the Waffle House Museum, which doesn't actually serve food, but smothers you in 24-hour diner facts and trivia. Delicious.
Memphis, Tennessee 
Visit the birthplace of rock 'n' roll for a whirlwind weekend of music, history, architecture and plenty of Southern food. The annual 901fest, a celebration of music, barbecue and international culture, is held on Saturday, May 27, and serves as a capstone to the monthlong Memphis in May international festival. MDW promises a slew of concerts, both indoors and outdoors, including a three-day run by rockabilly-ish group Presley, Perkins, Lewis & Cash at the historic Orpheum Theater. 
No visit to Memphis would be complete without a trip to Graceland, Elvis Presley's compound that now has guest accommodations and a restaurant if you're craving an extended stay. Feel free to visit in costume: You won't be the only one admiring the King's memorabilia in a slicked back wig. 
Punta Cana, Dominican Republic
Beach. Drink. Sleep. Repeat. If you're looking for a relaxing getaway where you can ignore your push notifications and focus completely on rum-based drinks out of hollowed-out pineapples, Punta Cana is your spot. 
Choose an all-inclusive resort so you don't even have to carry a wallet (though have a few singles to tip staff). You can also pre-pay for your indulgences, so you don't have to tally up your expenses at the end of your trip. If you're traveling without kids, opt for an adults-only resort for beaches and pools that are a little less crowded. Try Cheap Caribbean or vacation deals from your preferred airline to search for last-minute, all-inclusive deals.
San Juan, Puerto Rico
There's no passport required for Americans to enter the island of Puerto Rico, so you can skip the customs hassle and run straight to the island's many beaches. Staying in San Juan is your best bet for outdoor attractions and fantastic restaurants. While plopping down at a beachfront resort will get you prime oceanfront views, the inland hotels and condos are a much better value — and are still close to San Juan's many palm tree-lined public beaches. 
After a day in the sun, wander through the stone streets of Old San Juan, admire the colorful buildings and eat and drink on bustling Fortaleza Street. 
During the day, visit the Castillo San Felipe del Morro, a centuries-old fort where you can learn about Puerto Rico's military history. In case of rain, head to Casa Bacardi, the distillery and rum estate of Puerto Rico's must delicious liquid export: rum.
Valle de Guadalupe, Mexico
In Valle de Guadalupe, a three-hour drive from San Diego, you can cool off in the summer sun with a chilled Chardonnay and taste a variety of under-appreciated Mexican wines. 
Start your weekend at the Museo De La Vid Y El Vino to learn about the region's dozens of wineries. Just like Napa, Valle De Guadalupe is home to plenty of outstanding culinary options, including Corazón de Tierra, which is 39th on Latin America's 50 best restaurants list. 
Unlike many Mexican destinations, Valle De Guadalupe isn't on the beach, so check into a hotel with a pool if you want to go for a dip. 
San Diego, California
Roughly 100 miles south of Los Angeles, head to this California surf town for laid-back beaches and plenty of fish tacos. Hop on a roller coaster at Belmont Park and walk around the gorgeous gardens at Balboa Park. Stretch your legs on the 3-mile Oceanfront Boardwalk, which may be crowded with tourists and local skateboarders, but is worth the visit for the cheap drinks (check out the iconic Lahaina Beach House) and tasty beach snacks. 
Animal lovers should visit the giant panda at the San Diego Zoo or get close to marine life on a whale watching excursion. If you're eager to ride the waves, enroll in a surf class at San Diego Surf School or go boating in La Jolla. 
Vancouver, Canada
If you've joked about moving up north far too many times this year, it's time you actually go to Canada before declaring your new allegiance. Temperatures in Vancouver typically hover in the 60s throughout May, so you can comfortably cool off before official summer weather kicks in. 
Rent a bike and pedal through Stanley Park, where you can take in pretty spectacular mountain and waterside views. Make a reservation to dine at the Teahouse, and time your meal so you're there for the sunset. At night, head to historic Gastown, partially lit by gas lamps and full of cool businesses, shops and nightly events like pay-what-you-want cabaret. 
Head out to the Granville Island Public Market, where you can stock up on souvenirs and gifts, nibble on farm fresh bites and then visit the island's Emily Carr University of Art and Design to browse the student galleries, 
For a bit of thrill-seeking, go to the Capilano Suspension Bridge. It hangs 230 feet above the Capilano River, and you can walk through the treetops for incredible (and slightly scary) views. 
Chicago 
Chicago is usually too cold or too scorching hot to enjoy properly, but May offers a respite from the extreme weather. On the North Side, shop on Michigan Avenue's Magnificent Mile and take a Ferris wheel ride or boat tour at Navy Pier. Lake Michigan may be too chilly for a swim, but if it's sunny you can soak up the sun on the sand at North Beach and take a relaxing sunset stroll through Lincoln Park Zoo. 
Head to River North for your choice of trendy restaurants, or venture over to West Loop, a rapidly changing neighborhood that includes Top Chef winner Stephanie Izard's restaurants. Reservations are highly recommended at Girl and the Goat and her modern Chinese spot, Duck Duck Goat.
For a dose of culture, take a trip to the Art Institute of Chicago to visit masterpieces by European painters, the Field Museum to see your fill of dinosaur bones or the Museum of Science and Industry to indulge your nerdy side. 
Richmond, Virginia 
Instead of trekking to the nation's capital this long weekend, go to Virginia's capital city, Richmond, for your fill of history, art, culture and outdoor activities.
To start your cultural tour, visit the Virginia Museum of Fine Arts, which has an exhibition on designer Yves Saint Laurent (book tickets in advance). The Edgar Allen Poe Museum and the American Civil War Museum should fulfill your history quota, so you can move outdoors and experience some of Richmond's natural wonders. 
Book a guided Segway tour to visit important historical sites or go on a whitewater rafting adventure for a thrill that will rival any amusement park ride. 
If walking around cute neighborhoods is your idea of a great weekend, prioritize visiting Carytown for its shopping and dining destinations and Maymont to see the sweeping estate and gorgeous grounds. Make your home base the Quirk Hotel, which has a rooftop bar that looks over downtown Richmond.
Correction: May 23, 2017