'Pokémon Go' Grass Event End Time: When the no-frills event will wrap up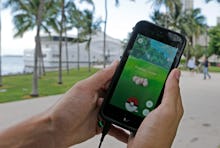 Pokémon Go's "Worldwide bloom" event marks a first for the mobile game — it's a no-frills event (it only increased the spawn rates of grass-type Pokémon). Unlike pretty much every other event Pokémon Go has had, it was only around for the weekend: May 5 through May 8, to be exact. 
If you're looking to make the most of the worldwide bloom and want to know when it ends, we've got you covered.
Pokémon Go grass event end time: It'll likely end around the same time as all the other events tend to
Unlike Pokémon Go's weeklong events like the Eggstravaganza or the Water Festival, which have their end times clearly listed on the Niantic website, the press release for the worldwide bloom didn't include an end time, instead stating "We anticipate that Pokémon will return to their normal habitats on May 8, 2017 PDT."
However, the end times for many other events have been around 1 p.m., PDT, so we're making an educated guess that the grass event will probably end around the same time on May 8. At the very least, the lack of explicit confirmation from Niantic hasn't stopped both Gamepress's main page for Pokémon Go and the PokéTimer from setting their countdown timers to 1 p.m. PDT. 
You've still got some time to do some early morning Pokémon catching, especially if you're dying to try and get a few more Bulbasaurs or you need to evolve Gen 2's Meganium. 
Just be warned: According to Forbes, the event has been unevenly implemented, and some areas haven't seen an increase in grass-type Pokémon at all. So bear that in mind as the event winds down, and hopefully your area isn't one that's been affected by this.
More Pokémon Go guides, tips and tricks
If you're booting up the game for the first time in a while, be sure to check out Mic's guides on how to get stardust, how to determine how long it will take you to reach level 40, the kind of Pokémon you get from 10-kilometer eggs, how to create new PokéStops, how to maximize your chances of catching Pokémon and how PokéStops distribute Pokémon eggs. Also check out how to catch Gen 2 baby Pokémon, our analysis of post-balance update Chansey and Rhydon and everything you need to know about finding the long-awaited Pokémon Ditto.