Navigating Trump's America: Sally Yates' testimony renews focus on Trump and Russia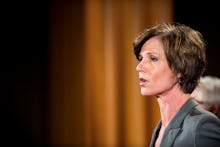 A few days removed from the president's health care celebration with House Republicans, reality has set in. The American Health Care Act is not likely to advance in the Senate, with the upper chamber instead drafting its own health insurance reform bill. That will drag on through the summer. In the meantime, former acting Attorney General Sally Yates testifies in front of a Senate subcommittee on Monday, reportedly about warnings she issued to the White House about Michael Flynn.
The former acting attorney general is expected to say she warned the White House that Flynn, then the national security adviser, could possibly be "compromised by Russia," sources told CNN. Yates is also expected to say that she told White House counsel in late January that Flynn was lying about his communications with the Russian ambassador — weeks before Flynn was fired. That clashes with President Donald Trump's previous claim that he did not know about the contents of a phone call between Flynn and the Russian diplomat, to discuss U.S. sanctions on Russia, during the transition.
Yates' testimony will draw attention back to alleged ties between Trump's campaign and Russia. It will also raise questions about the then-president-elect's judgment. Why keep Flynn around if you knew he was lying? Wasn't the president-elect concerned about Flynn's ties to Russia? Does this suggest the president is hiding something? Those are the kinds of questions Yates will face on Monday, though whether she has any insight into the president's decision-making is unknown and unlikely.
This isn't Yates' first tangle with the Trump administration. During now-Attorney General Jeff Sessions' confirmation process, Yates was Trump's acting attorney general — a holdover from the Obama administration. She refused to defend the president's first travel ban executive order. Trump fired Yates for what he considered insubordination shortly thereafter. Then, after Yates was called to testify before the House Intelligence Committee, the White House allegedly moved to prevent her from revealing what she knew. Committee Chairman Devin Nunes (R-Calif.) canceled that week's hearings, drawing criticism from Democrats and accusations that he was preventing Yates from revealing the truth.
Despite her clashes with Trump, Yates enjoys a sterling record as a fair, fierce lawyer. In 2015, during her Senate confirmation hearing to be Barack Obama's deputy attorney general, Yates said she would say no to the president if she felt her boss was in the wrong. Under Obama, Yates was the day-to-day operator of the Justice Department. She targeted corporate executives and oversaw increased clemency for federal inmates convicted of nonviolent drug charges. Before that, Yates fought public corruption as a prosecutor in Atlanta.
Any smear campaign against Yates by the White House may land on deaf ears.
A little more on health care: The group of Republican senators leading the work on health care reform are all male. "The House bill is not going to come before us," Sen. Susan Collins (R-Maine), a Senate moderate who is notably not a member of that health care working group, said on Sunday. Senators like Collins have deep concerns about the AHCA's changes for people with pre-existing conditions and those on Medicaid.
Collins isn't alone. This weekend, members of Congress faced stiff opposition at town halls across the country. Rep. Raul Labrador (R-Idaho) faced withering criticism after saying at a town hall on Friday that "nobody dies because they don't have access to health care." Rep. Tom Reed (R-N.Y.) was booed and yelled at during multiple town halls in New York. It does not appear the vast majority of House Republicans held town halls this weekend, but the national media focused on these as examples of a backlash against House Republicans for their AHCA vote.
Despite ironing out every detail to please Republican moderates and conservatives, the White House now wants the Senate to improve the AHCA. That will almost certainly tilt the bill to the center and make it unpalatable for House conservatives. Stay tuned for a House vs. Senate GOP showdown in a few months.
Another health care tidbit: One of America's largest health insurers pulled out of Obamacare exchanges at least partially because the federal government filed a lawsuit against the company — that's according to a federal judge. Profits over people, Aetna.
Democrats fire up the attack ads: House Republicans who are vulnerable in 2018 are already feeling the heat from their vote on health care last week. (Mic)
This is Mic's daily read on Donald Trump's America. Welcome to the political newsletter that hopes you watch Sally Yates' testimony closely. 
Highlights:
Today: All eyes are back on the president's alleged ties to Russia.
More: Health care is alive — just not in the form that it passed the House.
Even more: Texas banned sanctuary cities.
Yes, more: The moderate, pro-European Union candidate won the French election. What that means for Trump.
Trump's agenda today: Meeting with the vice president, his national security adviser and the secretary of state.
What Macron's victory means for Trump
The 39-year-old former investment banker who promoted the European Union during his campaign won the French presidential election by a landslide on Sunday. Emmanuel Macron beat Marine Le Pen — a nationalist, anti-EU and anti-Islam candidate — by a margin of roughly 66 to 34 points. Macron drew congratulations from Trump and Hillary Clinton (who threw immense shade). Twitter was quick to roast Le Pen with comparisons to the president, jokes that feel misplaced considering Trump actually won.
Macron's victory shows that support for internationalism and diversity is still thriving in France. Fears of a "Frexit" turned out to be overstated. But more than a third of French voters supported Le Pen, and at one point the election had the lowest voter turnout since 1981. The election demonstrates the populist wave that helped carry Trump and "Brexit" to victory last year won't flood every corner of the globe. A nationalist populist candidate in the Netherlands was also recently defeated.
While Trump once supported Le Pen, Macron's victory is not likely to immediately impact the president. Trump is squarely focused on domestic issues, and Americans are judging him based on his ability to improve health care, taxes, trade and much more.
News and insight you cannot miss:
•  Texas has banned sanctuary cities — a couple days after the president signed a federal spending bill that continues to allocate funds to such locales. (Mic)
•  In a bizarre move, Trump suggested on Friday that a federal program to support historically black colleges and universities may be unconstitutional. Why the president would highlight that — an assertion that is far from clear — is confusing, as was the president's response Sunday night that he supports HBCUs. Why bring this up, Mr. President? (Mic)
•  You should read this profile of Tomi Lahren in Politico.
•  Trump has been sued more than Obama, George W. Bush and Bill Clinton — combined — since taking office. (Mic)
•  Scott Pruitt, administrator of the Environmental Protection Agency, has removed five scientists from the EPA's Board of Scientific Counselors. That comes after the EPA removed information about climate change from its website. (Mic)