White woman at Trader Joe's to Muslim woman: "I wish they didn't let you in this country"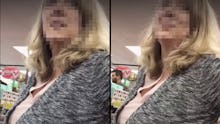 On Saturday, South Carolinian comedian Jeremy McLellan posted a video of a white woman at a Trader Joe's in northern Virginia accosting his Muslim woman friend, telling her "I wish they didn't let you in the country."
The Islamophobic incident began after McLellan's friend allowed the woman to cut her in the check-out line after noticing she was in a hurry, he explained in a Facebook post. According to the comedian, before his friend started recording, the woman began speaking ill of another Muslim woman, who was wearing the niqab, or face veil, at the store. The woman asked McLellan's friend why she didn't wear the niqab as well. When McLellan's friend responded by saying it was a choice, the non-Muslim woman didn't believe her and decided to lecture her about women's rights in Islam.
The woman didn't believe her and started talking about FGM [female genital mutilation] and telling her "I wish they didn't let you in the country."
FGM is the practice of removing parts, or all, of "the external female genitalia, or other injury to the female genital organs for non-medical reasons," according to the World Health Organization. It should be noted that while FGM is carried out in countries in Africa, Middle East and Asia, it is not an Islamic practice. Rather, FGM is a cultural practice used by some followers of many faiths.
McLellan's video begins with his friend, who wishes to remain anonymous, telling the woman that she shouldn't have let her cut in line. There was a long pause before the woman responded by telling her she wish she wasn't allowed into the country.
"Excuse me?" the Muslim woman replied. "I was born here."
"Oh, you were?" the woman said in surprise. After another long pause, the woman double-downed on her anti-Muslim comments. "Obama's not in office anymore," she added. "We don't have a Muslim in there anymore."
"Yeah, I wish he was," the Muslim woman replied.
"He's gone. He's gone," the woman said with a grin. "He may be in jail, too, in the future." 
You can watch the video, which already has over 4 million views, of the whole exchange here.