Why is Jennifer Morrison leaving 'Once Upon a Time'? Actress reveals decision on Instagram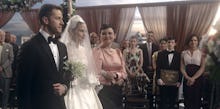 Jennifer Morrison made a sad announcement for Once Upon a Time fans on Monday. 
The actress, who plays Emma Swan on the hit ABC fantasy drama, revealed to her followers on Instagram season six would be her final season of the show. In the caption for the photo, she announced she had reached the end of her six-year contract and has decided not to renew it. 
"After very careful consideration, I have decided that creatively and personally, it is time for me to move on," Morrison wrote. 
Morrison also said Emma Swan has been one of her favorite characters to play.
"My six years on Once Upon a Time has changed my life in the most beautiful ways," Morrison wrote. "I am absolutely blown away by the passion and commitment of the Oncer fans. I am so honored to have been a central part of such a special show."
The actress said that as she moves on, she won't be leaving the Once Upon a Time world completely behind. In some consolation for fans, Morrison said she would continue to attend conventions and other events related to the show, schedule permitting. And, if ABC decides to the renew the show for a seventh season, Morrison has agreed to return for one more episode.
The news came after Emma Swan finally finally married Hook in Sunday night's episode. In the musical installment titled "The Song in Your Heart," Swan kept the Black Fairy away so she and Hook could have their "happily ever after." But how long will that last? It's not clear if Morrison's character will simply be written off the show — or will meet a more permanent end.
The season finale of Once Upon a Time airs at 8 p.m. Eastern on Sunday on ABC.
Mic has ongoing TV coverage. Please follow our main TV hub here.