'Overwatch' Reddit Scandal: YouTuber OhNickel falsely accused of scamming, and it got pretty vicious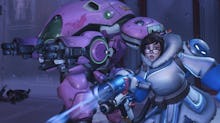 Over the weekend, Overwatch YouTuber OhNickel was accused of scamming one of his viewers, who claimed OhNickel never delivered a prize to him for a giveaway he won. The viewer's thread in /r/Overwatchnullnullnullnull gained some serious traction, amassing over 20,000 upvotes and thousands of comments before it was debunked.
If you're just catching up on this entire Overwatch Reddit scandal. here's what you need to know.
Overwatch Reddit scandal: What happened
The /r/Overwatch thread was started by a Reddit user who was impersonating the actual winner of the giveaway by creating a new Reddit account under the winner's YouTube username. Later, it was put together that the impersonator must have gone through different giveaway winners and found one that didn't have a Reddit account under the same name. 
Although the original post was deleted, you can still find the thread here — it's now mostly filled with apology comments. Before it was debunked, however, the tone of most comments was very different. People were calling OhNickel expletives and threatening to unsubscribe from the channel. 
One person even offered to gift the thread creator with the giveaway reward they claimed to have been scammed out of.
Overwatch Reddit scandal: OhNickel responds
Later that same day, OhNickel posted a video explaining the situation. He debunked the scamming rumors and showed an email exchange with the actual winner as proof.
He also showed that the actual winner of the giveaway had tweeted about winning twice — a fact that would have been easily verifiable by any of the Reddit users.
Unfortunately, that didn't stop people from sending OhNickel hate tweets about the incident. 
Now it seems that the situation has been cleared up. OhNickel has received numerous apologies from people on both Twitter and Reddit, and his video debunking the incident is now at the top of /r/Overwatch. Perhaps most importantly, members of the Overwatch subreddit are engaging in a discussion as to exactly how such a bogus claim gained traction in the first place, which may help the community avoid making similar mistakes in the future.
More Overwatch news and updates
For more on Overwatch, check out the rest of what Mic has to offer. Here is an essay about how Efi Oladele was a missed opportunity for Overwatch, adeep dive into the issue of sexual harassment in Overwatch voice chat, anunintentionally hilarious infographic showing the most popular Overwatch characters in each state, a criticism of Blizzard's failures in its design of Symmetra and a dive into a cool trend on Tumblr that converts your most-played heroes into a psychedelic illustration.