New progressive group raises over $1 million to challenge GOP after health care vote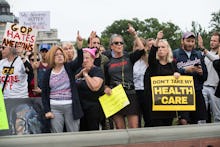 Just three days after House Republicans celebrated their successful health care vote with beer and cigars, a new progressive group has raised more than $1 million to try and kick them out of office. 
Swing Left, a recently created political action committee devoted to supporting Democratic candidates in what are expected to be swing districts in the 2018 midterm elections, has already raised $1.3 million — the vast majority of which was raised in the days after Republicans in the House of Representatives passed a bill to repeal and replace the Affordable Care Act.  
In a press release the day after the vote, Swing Left announced it had received donations from nearly 20,000 individual donors. "The overwhelming response we've seen from countless Americans ensures that many House Republicans will quickly regret their vote, and sends a clear signal to those in both the House and Senate that supporting the AHCA and the Republican agenda comes with a political price," Ethan Todras-Whitehill, Swing Left's executive director and cofounder, said in a statement.
Democrats have cast the health care bill, which now heads to the Senate for consideration, as an attempt to take health care away from millions and allow insurance companies in some states to discriminate against people with pre-existing conditions.
Other progressive groups like Daily Kos, the liberal blog that helped boost the profiles of Democratic special election candidates like Jon Ossoff and Rob Quist, have also raised considerable sums of money.
Across the country, progressive candidates are already throwing their hats into the ring against GOP representatives in vulnerable districts — and outside groups are already running ads against those GOP incumbents, slamming them for their AHCA votes.
If this kind of momentum continues into 2018, Republicans may regret having been so quick to break out those celebratory cigars.