iPhone 8 Release Date Update: Latest rumors suggest September 2017 launch and design leak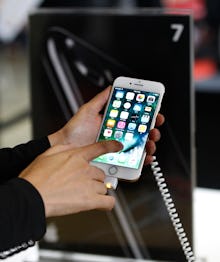 A new report from JPMorgan, spotted by 9to5Mac, offers more insight — unverified by Apple, of course — into what the iPhone 8 will be like. The device will likely be Apple's high-end commemorative handset, honoring the 10-year anniversary of the iPhone, and it will be separate from the next-gen iPhone 7S smartphones.
Bloomberg, citing people "familiar with the matter," reported that the new iPhone 8 — also being called the iPhone X and iPhone Edition — is a "top-of-the-line handset with an overhauled look." Previous rumors have hinted that the premium 5.8-inch handset will have an OLED edge-to-edge display and will be bezel-less.
Now the JPMorgan report — though 9to5Mac warns that JPMorgan's track record for getting predictions right is not the best — says things are a bit different. The report claims iPhone 8's OLED display will be edge-to-edge horizontally instead of vertically. What's more, a diagram of the iPhone 8 also features top and bottom bezels, which goes against majority of other predictions and mockups circulating the internet.
Most other reports indicate the iPhone 8 will have a fingerprint sensor within the display, which means there will be no home button. Other rumors suggest there may be wireless charging, a front-facing dual-lens camera, a new smaller A11 chip, extended battery life, improved water resistance and a 3-D sensing system to support augmented-reality technology — or "some form of facial/gesture recognition." The JPMorgan report is on the same page regarding the dual camera, 3-D facial recognition and enhanced waterproofing.
Earlier this year, KGI Securities analyst Ming-Chi Kuo said the iPhone 8 would have a "function area" featuring virtual buttons at the bottom of the iPhone's screen. Kuo predicted this part of the device would leave 5.15 inches for "usable display real estate," while the rest will be allocated for the function area.
iPhone 8 release date
As for when the smartphone will release, there was talk of delays. It was reported in April that the premium iPhone model is delayed due to "technical issues." Chinese-language Economic Daily News reported Apple was struggling with "the lamination process of curved OLED panels." Essentially, the company is allegedly having problems integrating the new Touch ID sensor within the display screen.
How long is the supposed delay? Forbes reported the public sale of the high-end device could be pushed back to the end of November 2017 and Bloomberg reported that the iPhone 8 could be delayed by "one or two months." That said, Economic Daily News is now reporting the smartphone will be unveiled in September and launch in October.