Piers Morgan can't wrap his head around MTV's genderless award categories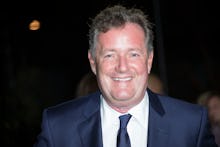 MTV handed out its first gender-neutral best actor in a movie award on Sunday night. While many praised the awards show for breaking the gender divide, Piers Morgan was less enthused.
The conservative British pundit went off on a rant Monday morning about the award — which was given to Emma Watson for her performance in Beauty and the Beast — and what he sees as its disastrous consequences for gender.
"Should we ban the word man from life itself?" Morgan wondered on Good Morning Britain. "Should nothing anymore be male or female? Little babies just be little babies, no longer boys and girls? Should it all just be ended? Should we end gender as we know it? Is it the end of gender?'"
Morgan didn't stop there. In addition to going on a Twitter rampage, Morgan went on to publish a screed in the Daily Mail under the headline: "It's a pity there's no award for the most pompous, politically correct personality on the planet because Emma Watson would be a shoo-in, whatever gender she claims to be."
Though Morgan wrote he's accepting of transgender men and women because they endorse traditional gender categories, what he can't accept is the fact that anyone might identify as neither, or as something in between.
"I am 100% opposed to the concept of there being 157 different ways (at last count) to 'self-identify' one's gender, and equally opposed to the consequential rising demand for 'gender neutrality,'" he wrote.
MTV's executives, of course, had no intention of destroying gender when they decided to introduce gender neutral categories. 
MTV, VH1 and Logo general manager Amy Doyle told the Hollywood Reporter the change was meant to reflect the shifting ways MTV's audience thinks about gender — not to do away with it entirely.
"It really was a cultural statement," Doyle told the outlet. "And it really is reflective about the audience's views and when you look at the culture as a whole, you had a man against a woman running for president [last year]. It just felt like a dated construct for a category."
Doyle added that more and more, MTV's viewers have been "uniformly rejecting obsolete labels and embracing fluidity."
Nonbinary actor Asia Kate Dillon made a powerful case for rejecting those "obsolete labels" in April when they penned a letter to the Television Academy, the body responsible for the Emmy Awards, pointing out the limitations of gendered award categories.
I'm hoping to engage you in a conversation about this is because if the categories of "actor" and "actress" are in fact supposed to represent "best performance by a person who identifies as a woman" and "best performance by a person who identifies as a man" then there is no room for my identity within that award system binary.
But all of these points, it seems, are rather unthinkable to Morgan. 
"Am I wrong?" Morgan said on Good Morning Britain. "Is it just me or am I a creaking old dinosaur that doesn't get it?"
Well, Morgan, you said it — not us.