From Janet Mock to Gavin Grimm to Angelica Ross: The best dressed at the 2017 GLAAD Media Awards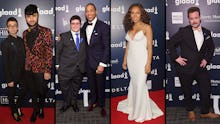 Sure, the GLAAD Media Awards are an important opportunity to celebrate the accomplishments of the LGBTQ community in media and entertainment — but it's also an opportunity to show just how well said community does at turning it out for a black-tie affair.
Of course, many stand-out looks came with an important message. Stars like Zachary Quinto and Trevor Noah, for instance, wore "&" pins, GLAAD's symbol of resistance.
"On the GLAAD Media Awards carpet, what you're wearing is never as important as where you stand on social issues and LGBTQ acceptance," said GLAAD Chief Communications Officer Rich Ferraro. "It's impossible not to look fierce when you're wearing a GLAAD '&' pin and speaking out against the forces that that try to divide us."
The Ross Mathew-hosted event, which took place on Saturday night at the New York Hilton Midtown in New York City, saw Andrew Rannells present Debra Messing with GLAAD's Excellence in Media Award, while Rosie O'Donnell presented Billy Porter with the Vito Russo Award, a special award presented to an openly LGBTQ media professional who has made a significant difference in promoting equality and acceptance.
Mic's own "Unerased" project picked up an award for Outstanding Digital Journalism — Multimedia, while Zachary Quinto and Janet Mock presented the award for Outstanding Talk Show Episode to The Daily Show with Trevor Noah for its interview with Angelica Ross about transgender issues.
For Ross, her choice to wear a yellow Michael Costello-designed gown was a subtle hat tip to. "From the beginning I knew I wanted to wear yellow," Ross said in an interview. "It's May and I wanted to bring in the sunshine while giving a nod to the yellow I wore on The Daily Show with Trevor Noah."
Meanwhile, for Justin Tranter, the self-described "music industry gay boy," his look was was all about gender subversion.
"I wanted to serve strong femme business realness since I knew I was getting on stage during the live auction to help raise money for this very important organization — and I think it worked," Tranter said in an interview. 
Adding: "As a gender non-conforming person, I always like to mess with the male silhouette, so my shirt was extra long and the pants where super wide to create almost a dress illusion. Oh yeah, and the shoe had a 4-inch heel. Something subtle for kids."
For singer Brad Walsh, it was all about making a statement — something he greatly succeeded in. 
"Dressing for GLAAD, you can be a bit more bold in your choices," Walsh said in an interview. "It's a celebratory event and everyone there is a friend. I wore a fun Mr. Turk print because my husband [Christian Siriano] and I were there to celebrate our friend Debra Messing."
Siriano designed the copper-pleated jumpsuit Messing wore, which Walsh described as "not an outfit you would wear to just any event." 
He continued: "GLAAD is such a wonderful and necessary organization and the work they do helps the LGBTQ community literally every day. Parts of the ceremony highlighted just how real our issues are and how serious and dangerous the Trump administration's threats are to members of our community." 
Among the stand-out moments, Messing's speech:
And while there were no formal awards offered for best dressed, here's our roundup of some of our favorite looks from the night, in no particular order — except for Janet Mock, who slayed in Christian Siriano.
Janet Mock
Gavin Grimm and Don Lemon
Christian Siriano and Brad Walsh
Angelica Ross
Billy Porter
Alex Newell
Justin Tranter and Darian Darling
Rosie O'Donnell
Zachary Ducker
Zeke Smith
Andrew Rannells
Lina Bradford
Geena Rocero
Ross Mathews
Arisce Wanzer
Nico Tortorella
Bradley Miller
Dan Levy