What does South Korea's presidential election mean for US-North Korea relations?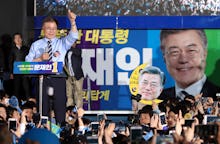 On Tuesday, South Koreans will go to the polls to elect the country's next president — and as tensions between the U.S. and North Korea continue to escalate, the outcome could have far-reaching consequences.
Under past president Park Geun-hye, who was impeached, South Korea and the U.S. spent the past ten years sharing the same hard-line stance on North Korea, which favored tough sanctions over diplomacy and negotiations. 
Now, as President Donald Trump's administration moves toward ending the U.S. government's traditional tactic of "strategic patience" regarding North Korea, South Korea's policies may soon take a shift of their own. 
Tuesday's election is currently focused on three leading candidates: liberal Democratic party candidate Moon Jae-in, centrist Ahn Cheol-soo of the People's party and conservative Hong Joon-pyo of the Liberty Korea Party. If current frontrunner Moon comes out on top, South Korea's long-standing North Korea policy may soon change — and potentially diverge from the U.S.'s current strategy.
Ahn and Hong's North Korea policies
If elected, Hong — whose controversial comments have earned him the nickname "Hong Trump" — would keep South Korea's policy toward its northern neighbor pretty much the same as the country's current conservative stance, Al Jazeera notes. The candidate's policy of "Armed Peace" would continue to freeze relations with North Korea, while relying on U.S. military support and a larger defense budget.
Ahn's policies take a more middle-of-the-road approach. The candidate supports a bolstered military and the controversial THAAD missile system that the U.S. recently imposed on South Korea, Channel News Asia notes, along with U.N. sanctions on North Korea. However, he has also said he would support diplomatic negotiations with North Korea "if the conditions are right," ABC News reported.
Both candidates are currently trailing in the polls as of May 6, Channel News Asia reported, earning just over 15% in opinion polls to Moon's 40%. But there is room for uncertainty: Washington Post notes that more than a quarter of South Korean voters are still open to changing their vote.
Moon's North Korea policy
If Moon wins, as predicted, the country's North Korea policy and relations with the U.S. could change significantly.
The liberal candidate's current North Korea policy is the least military-centric, favoring the possibility of diplomatic talks with Pyongyang. "We need to have two tracks of measures here," Moon said, as quoted by Foreign Policy. "We need to be able to apply some pressure and coercion on North Korea, but on the other hand we should also start discussions and dialogue with North Korea."
Moon's diplomatic efforts would grant concessions to North Korea by re-opening Mount Kumgang, a North Korean tourist resort, and the Kaesong Industrial Complex, an area inside North Korea for South Korean manufacturing that uses North Korean labor, Al Jazeera reports.
In exchange for these concessions, North Korea would have to freeze its nuclear program and agree to negotiations focused on ending it entirely.
Threat to current U.S.-North Korea strategy
Moon hopes his policies would allow South Korea to take a more assertive approach in its relations with North Korea, rather than letting the U.S. take the lead.
"I do not see it as desirable for South Korea to take the back seat and watch discussions between the U.S. and China and dialogues between North Korea and the U.S.," Moon said in an interview with the Washington Post. "I believe South Korea taking the initiative would eventually strengthen our bilateral alliance with the U.S."
Though Moon told the Post South Korea's U.S. alliance is "the most important foundation for our diplomacy and national security," his diplomatic policy may go against the U.S.'s current strategy of putting pressure on North Korea, Australia's ABC News notes, dividing the two allies.
"[How] does Trump respond to a South Korean ally not supporting his policy approach with tens of thousands of U.S. troops forward deployed to defend their country?" Ely Ratner, a former deputy national security advisor to Vice President Joe Biden, told FP. "It's easy to imagine him asking why our troops are there at all."
U.S. officials also worry that Moon's diplomatic efforts could work as a stalling tactic for North Korea, giving them more time to develop their nuclear missiles, according to FP.
The U.S.'s current North Korea strategy seemingly remains in flux, making it hard to say what exact effect Moon's tactics would have. On one hand, the Trump administration has continued to suggest a military conflict with North Korea could be imminent.
"There is a chance that we could end up having a major, major conflict with North Korea," President Donald Trump said in an interview with Reuters.
But it seems that for Trump, diplomacy could also be possible. The president also told Reuters the government would "love to solve things diplomatically," and said in an interview with Bloomberg he would be "honored" to meet North Korean leader Kim Jong-Un "under the right circumstances."
Because of this, though Moon isn't afraid to diverge from the U.S.'s strategy, the potential Korean leader believes he and Trump are "on the same page" regarding how to best deal with North Korea.
"I believe President Trump is more reasonable than he is generally perceived," Moon told the Post. "President Trump uses strong rhetoric toward North Korea but, during the election campaign, he also said he could talk over a burger with Kim Jong Un. I am for that kind of pragmatic approach to resolve the North Korean nuclear issue."