21 clever shopping tricks to save money on groceries, clothes and everything else you buy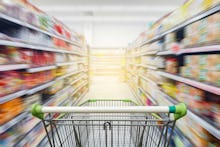 Unless you have a personal shopper — or a generous family member who'll do it for free — there's really no way around buying basics like food, clothes, and household items like toothpaste and dish soap. What you don't have to do, however, is spend more money than necessary on essentials. 
Alas, many of us spend more than we must: "You can look at consumption levels and control for purchasing power over the last several decades, and America is simply in a league of its own," as Sheldon Garon, author of Beyond Our Means: Why America Spends While the World Saves, told NPR.
To help you hang onto more purchasing power, these 21 tips will show you how to become a savvier shopper — so you can get more bang for your buck and have more cash left over for an awesome trip or to feather your nest egg.
1. Reduce trips to the store
"The more you interact with a product, the more likely you are to buy it," Paco Underhill, author of Why We Buy, told Rachel Ray Every Day. Frequent shoppers buy more, and 54% of consumers admit to spending at least $100 on impulse buys, according to Consumer Affairs. Instead, shop twice monthly, then make a quick weekly visit for perishables.
2. Learn cyclical sales schedules
All items go on sale at specific times. Linens go on sale in January, while October is an ideal time to buy floor coverings. For groceries, the sales cycle is once every six weeks. "Buy enough now to get you to the next sale, and you won't ever have to pay full price again," the Balance explained. If $2.69 pasta sauce is on sale for $1 and you buy 6, you'll save $10.14 on that one item alone.
3. Always ask for an IOU
Frustrated by a sale item being out of stock? In Connecticut, stores must make good on advertised offers by providing rain checks if they sell out. Many states have similar rain check policies and stores often voluntarily offer rain checks. Ask for an IOU even if you weren't planning to buy right away. That way, you'll be able to purchase on sale whenever you want. 
4. Don't fall for shopping gimmicks
Does your grocery store put items on sale 10 for $10? Are local stores always "Going out of Business" or offering ridiculous discounts. Don't fall for it. Research what an item should cost using PriceJump or Shop Savvy to avoid fake sales. As far as those grocery items, "the single item price for 98% or more of these types of deals is the same whether you buy one or a hundred," the Krazy Coupon Lady explained. 
5. Make friends with the sales clerks
Do you have favorite stores for clothes or household items? "Ask a clerk to put you in her client book and to call or email you about other sales as they happen," LearnVest recommended. "A lot of stores will let even let you come in a week or so before the actual promotion and hold the merchandise you're interested in, then email you when the sale begins."
6. Sign up for loyalty programs
Each household in America is signed up for around 22 loyalty programs, according to Consumer Reports. There's a good reason: discounts! Some of the best loyalty programs include Target's REDcard, which gives you 5% off and free online shipping, and the Gap Rewards Program, which gives you a $10 Rewards Card for each 1,000 points earned. Grocery stores and online stores also offer perks. 
7. Get cash back 
Sign up to get cash back on purchases through Ibotta, which links loyalty cards to the app and pays you for qualifying purchases. Or, consider Ebates, which gives up to 25% cash back at more than 2,000 online stores including Dick's and Juicy Couture.  
8. Write to retailers 
While you may not be up for getting millions of re-tweets to earn free chicken nuggets, you can score free stuff by writing companies letters complimenting their products. Trader Joe's, Starbucks and In-N-Out were among the 15 companies out of 26 who responded to letters by sending gift cards or coupons, according to Thrillist. "All it took was a Forever stamp, a minute or two to write the letter and an envelope."
9. Eat a big meal before you shop for anything 
When craving calories, you could spend up to 60% more shopping even for non-food items, according to the Smithsonian. If you find yourself tempted by delicious smelling delicacies at the grocery store even if you have a full belly, "combat those tempting odors by eating a mint — which satiates hunger and can help overwhelm other scents," Time recommended. 
10. Hit up the the right places for the best deals
Shopping at the right place helps you save. Don't run all over to save $1 — it's not worth your time — but hit up consignment stores for clothes, estate sales for home decor and drug stores for dog food. For example, you could get the cheapest toilet paper at Costo or save $5.50 on dog food by buying at a drug store sale instead of a grocery store Consumer Affairs notes.
11. Consider joining a club
Buying everyday items like aluminum foil, mustard and disinfectant wipes is up to 61% cheaper at a warehouse club, Consumer Reports explained. Total costs for 18 common items: $209 at a grocery store compared to $82 at a warehouse store. Have a small apartment? Split your membership cost and shop with a friend — you can each take home half the toilet paper. 
12. Take the smartest route through every store
"To avoid overspending, shop around the edges of the [grocery] store," The Krazy Coupon Lady recommended. "Fill your cart with fresh produce, dairy and protein and bread. This will leave less room for expensive impulse buys." In other stores, start at the back and work forward. "If you do it the other way, you're prone to walk more slowly and tiredly towards the front after your shopping is done, leaving you open to lots of impulse buys on the way," the Simple Dollar noted.
13. Shop alone or with a frugal friend 
Grocery shop with your partner? You could spend 38% more, the Globe and Mail warned. Shopping with friends or loved ones distracts you from your list and makes you shop for longer. Friends could also be a bad influence, prompting you to buy more. Don't make shopping part of your social life — buy what you need, then get out and do something else fun with a friend. 
14. Shop with a list
If you don't plan your grocery shopping before you go, expect to spend 23% more on impulse buys, according to researchers from University of Pennsylvania's Wharton School.  Plan your meals and make your list around discounted items to save as much as 50%, US News & World Report recommended. 
15. Walk to the store
"Unplanned purchasing goes up by 44% if the shopper goes to the store by car instead of on foot," University of Pennsylvania Wharton School research revealed. Walking also reduces gas costs, is better for the planet and is a good way to get exercise without paying for an expensive gym membership. 
16. Use coupons all the time
Deal sites like Money Saving Mom and Retail Me Not make it easy to check for printable and online coupons. You could save $3 off Bacardi Oakheart if you buy it with any brand of cola or 20% off any item at Bed Bath & Beyond. Do a quick search for coupons before buying any products or making any purchases.
17. Shop by unit price
Don't assume bigger is always better. "In some supermarkets, as much as 25% of brand-name products are a poorer value in the larger size," Consumer Reports warned. Start by calculating the unit price by dividing the total cost by the quantity. For example, $2 for 100 tissues is $0.02 per tissue. At one Target store, the publication found that you'd pay $0.54 more per pound for a 12-ounce can of StarKist tuna compared with a 5-ounce can. It always pays to do the math. 
18. Swap out name brands for generics
Many generic products taste the same as their brand name counterparts. You can save around $1.50 on generic orange juice or $1.70 on generic soda compared with name brands, Three Thrifty Guys found. And an entire cart of name brand versus generic groceries cost almost $15 more for the same items in their side-by-side comparison. Also shop generic for more expensive purchases like prescription drugs. 
19. Ask for a price match
Many stores — including Walmart, Target and Best Buy — will match competitor prices. Some also offer to refund the difference if an item goes on sale within a specific time after a purchase. CamelCamelCamel and PriceJump allow you to track prices and monitor for price drops. Asking for price matches lets you save without running around to different stores, and wasting gas. 
20. Get discounts on clothes with tiny defects
Stores often give you a deal on clothing with a minor problem, like a stuck zipper or easily removable stain. If you see something you believe you can fix, ask the store manager if they'd give you a break on the price. "I once got an extra 10% off a $300 INC leather jacket that was marked down to $100 because it was missing a button on a cuff," the Penny Hoarder wrote. 
21. Use mobile apps on the go
Apps are the answer when it comes to saving on everything you purchase. Use price trackers, cash back apps and coupon apps to save more and spend less. A couple great options: SavingStar gives you grocery store coupons and discounts if you link your loyalty card, ShopSavvy lets you find the cheapest price by scanning barcodes and Consumer Reports' app lets you comparison shop based on ratings and prices. 
Sign up for The Payoff — your weekly crash course on how to live your best financial life. Additionally, for all your burning money questions, check out Mic's credit, savings, career, investing and health care hubs for more information — that pays off.