Celebrities like Nicki Minaj can't even make a dent in the student debt crisis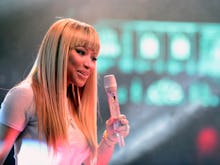 On Saturday night, hip-hop star Nicki Minaj went on an altruistic Twitter spree, promising to pay school tuition, student loan debt and other school costs for roughly 25 of her Twitter followers. As nice as the gesture was, these numbers show just how deep the problem of student debt in America goes.
As disheartening as it is to admit, even a fleet of goodhearted celebrities offering to help pay for costs associated with school for their Twitter followers wouldn't even make a dent in the U.S.' massive student debt crisis.
By one estimate, during her Saturday night spending spree, Minaj, who is worth an estimated $70 million, promised a total of about $20,000 to her fans to cover everything from textbook fees to student loan payments.
As Forbes reported in February, student loan debt in the U.S. is a massive crisis. A total of 44 million student loan borrowers have a total $1.3 trillion in student loan debt. That means that it would take 65 million Saturday nights of Nicki Minaj doling out money on Twitter in $20,000 increments to pay off the current student debt burden in the U.S.
Of course, that's not to suggest that it's Nicki Minaj's responsibility to pay off everyone's student debt — but the comparison does throw Saturday's exploits into grim perspective. According to Forbes, the average student who graduated in 2016 has $37,172 in student loan debt, almost double what Minaj gave away on Twitter.
Some individuals carry much, much more. One Twitter user who reached out to Minaj on Saturday night included a screenshot that appeared to show she had more than $200,000 in student loans.
That user didn't hear back from Minaj, but she has started a GoFundMe campaign to pay off her law school loans, which isn't an uncommon move for young people who are buried under debt.
Other stars like Chrissy Teigen and Taylor Swift have given money to individual fans in the past, and Rihanna and Beyoncé both founded college scholarship programs, People reported. 
Celebrity donations, however, are just minuscule drops in a $1.3-trillion bucket. To help solve the massive crisis, some experts say, we'll need real changes like legislation that enables employers to help their staff pay student debt, or an "overhaul" to the system so that young people are no longer forced to immediately start paying off their debt, sometimes putting student loan payments above basic necessities.
Or we can just hope that Nicki Minaj spends the next few decades handing out money on Twitter.