Penn. judge proposes sentence of $1 per grope for man convicted of sexual harassment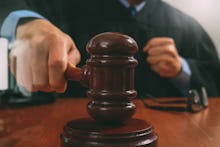 A Pennsylvania judge recently proposed fining a man $1 for every time he groped a woman. 
Somehow, Common Pleas Senior Judge Lester G. Nauhaus was being serious — and now, the Allegheny County District Attorney's office plans to report him, the Pittsburgh Post-Gazette reported.
Nauhaus offered his contentious proposition during an appeals hearing for an 18-year-old offender convicted for sexually harassing a younger girl when they were both in middle and high school. The defendant had groped the victim on a number of occasions and was fined $300 for his behavior. 
According to BuzzFeed, the defendant has been "in the state's child-welfare system for some time." When he appeared before Nauhaus on April 26, his lawyer, Dawn Walters, told the court he couldn't afford the fee and asked for the defendant to serve community service instead. He knew what he did was wrong and wanted to apologize, Walters said, but simply did not have $300. 
That's when Nauhaus threw out several brow-raising statements.
"Listen, I can name at least one adult that thinks [groping is] okay," the judge said, adding that the unnamed adult is "an important guy" — an apparent reference to President Donald Trump as a standard of acceptability for sexual harassment. 
Assistant District Attorney Jeff Tisak requested Nauhaus impose a sentence of 90 days probation and a no-contact order, saying he wanted the defendant to "stay away from" his client. 
Nauhaus went further, according to court transcripts:
The court: Fine. I'm going to give him a 90-day postponement. He has to do community service. And he has to pay a $3 fine. How many times did he touch?
Tisak argued it was "just highly inappropriate to tell a young girl that inappropriate touching is worth a dollar at a time," and that no fine at all would be better than that. 
In a statement to BuzzFeed, a spokesperson for the district attorney's office said the judge's "conduct has no place in our [judicial] system and the District Attorney will bring it to the attention of the appropriate persons and, if necessary, the Judicial Conduct Board." 
It's apparently not the first time Nauhaus has stumbled during his time on the bench. According to the Post-Gazette, Nauhaus forced former Pennsylvania Supreme Court Justice Joan Orie Melvin to pose for photos when she was handcuffed following a corruption conviction. The picture was meant to accompany handwritten apology notes to be mailed to every judge in Pennsylvania. An appeals court shut down the photo requirement. 
In this instance, Nauhaus acknowledged to the Post-Gazette he was sentencing "an absolutely troubled child" and attempted to explain his brusque behavior in court.
"I have to find some way of punishing," he said. "It was obvious he had done something wrong. They came before me with no suggestion. ... It's almost impossible. It's frustrating. I didn't mean to mock. I didn't mean to denigrate. I just wanted somebody to give me an answer. That's their job."