Obama warned Trump not to hire Michael Flynn, report says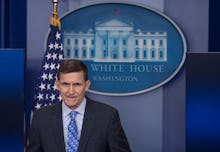 Former President Barack Obama warned successor Donald Trump against picking Gen. Michael Flynn for national security adviser, according to a new report published Monday.
NBC News quoted three advisers in the Obama administration in revealing Obama's advice, which "came less than 48 hours after the November election when the two sat down for a 90-minute conversation in the Oval Office."
Flynn, a retired Army lieutenant general, resigned from Trump's administration in February after apologizing to Vice President Mike Pence for claiming he never communicated with Russia about Obama's expulsion of Russian diplomats from the United States.
"The revelation comes on a day that former acting Attorney General Sally Yates is expected to testify that Flynn misled the White House about his contacts with Russia's ambassador to the United States," NBC News reported.
Ahead of that hearing, Trump himself took to Twitter to try pinning responsibility for Flynn's access to sensitive information on his predecessor.
"General Flynn was given the highest security clearance by the Obama administration — but the fake news seldom likes talking about that," the president wrote.
Flynn did gain clearance during the Obama years, but was fired from his role at the Defense Intelligence Agency in 2014 due to widely reported issues with his management style.
The White House responded to the NBC News report shortly after its release. 
"One Trump White House official told NBC that Obama made it clear he was 'not a fan' of Flynn during their conversation, while another said it seemed like the former president's comment about Flynn was meant as a joke," Talking Points Memo reported.
Trump has sought to cast a shadow over Yates, a veteran prosecutor, as she reportedly prepares to discuss Flynn's communications with Sergey Kislyak, Russian ambassador to the U.S.
The questions about Flynn are related to a wide-ranging inquiry into Russia's alleged efforts to influence the outcome of the 2016 presidential election.
At Monday's daily press briefing, White House press secretary Sean Spicer acknowledged Obama had made to clear to Trump he "wasn't a fan" of Flynn's, but said the former president's administration was still responsible for giving Flynn the security access he enjoyed.
May 8, 2017, 2:00 p.m. EST: This story has been updated.