'American Horror Story' season 7 concept art teases terrifying "election" theme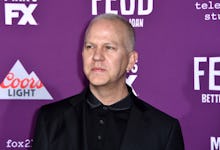 What could be scarier than going back in time and reliving the 2016 presidential election? Those are the exact sentiments of American Horror Story creator Ryan Murphy, which is why he revealed it would be the motif of the show's seventh season. 
So far, fan reactions to the theme have been mixed — apparently, people aren't too interested in a horrific take on something that was already pretty unsettling to experience firsthand. 
However, the negative feedback hasn't stopped Murphy from fanning the fire, as he recently dropped an incredibly creepy first look at the season's preliminary artwork on his Instagram.
Those empty eyes alone may cause nightmares forever.
It looks like a combination of Twisty the Clown from season four — otherwise known as Freak Show — and an elephant mask, which, of course, suggests the symbol for the Republican Party.
Fans went wild commenting on the photo, pondering the possibilities for the upcoming season. Some speculated the election-related season might be a view into a possible dystopian future — a popular TV theme this year — with a more mythical, allegorical direction, which is often Murphy's bread and butter. 
Considering the latter — as well as the above artwork — the story will most likely live in the land of metaphor. 
Murphy has even flat-out said season seven won't include any real political representation.
"The themes of American Horror Story have always been allegories," he said while accepting a Publicist Guild Award in February. "You will not see [Donald] Trump and [Hillary] Clinton as characters on the show."
So, unfortunately, any fans hoping to see Kathy Bates or Sarah Paulson as president will have to hold out for a different vehicle. 
However, based on this early reveal and Murphy's Twitter account, fans won't have long to wait for more season seven teasers, as well as hints for several other Murphy projects.
It's also been revealed that longtime cast members Evan Peters and Paulson will have a role in the season, where they'll be joined by Scream Queens' Billie Lourd and Difficult People's Billy Eichner. Specific roles haven't been announced.
The trailer has yet to drop, but season seven is currently set to air in September, so it may pop up sooner rather than later — and, no doubt, terrify everyone. Until then, Murphy's social media handles definitely seem like the place to go for clues.
Mic has ongoing American Horror Story coverage. Please follow our main American Horror Story hub here.