Election not suspenseful enough? Bill Clinton is co-writing a presidential thriller novel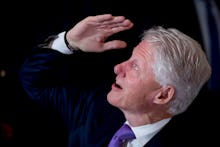 In case last year's epic election battle between Hilary Clinton and Donald Trump didn't provide enough twists and turns, Bill Clinton is teaming up with best-selling novelist James Patterson on a thriller about — what else? — the presidency.
The Associated Press reported Monday that the 42nd president and Patterson are collaborating on a suspense novel called The President is Missing.
Scheduled for release in June 2018, the book is being promoted as "a unique amalgam of intrigue, suspense and behind-the-scenes global drama from the highest corridors of power." The story, co-publishers Alfred A. Knopf and Little, Brown and Co. said in a release, "will be informed by details that only a president can know," the Associated Press reported.
The publishers are keeping the financial terms of the book deal and whether the novel is related to the Hillary Clinton-Donald Trump showdown under wraps.
The prolific Patterson claims the Guinness world record for writing the most New York Times top bestsellers, with his best known series including the Alex Cross, Michael Bennett and Women's Murder Club books.
"Working on a book about a sitting president — drawing on what I know about the job, life in the White House and the way Washington works — has been a lot of fun," Clinton said in a statement, per USA Today. "And working with Jim has been terrific. I've been a fan of his for a very long time."
Clinton, who has kept busy since his two terms as president through his family foundation and with campaigning for his wife, is already the author of several books, including the 2004 autobiography, My Life.
The President is Missing is billed as Clinton's first work of fiction.
Well, almost.