'Assassin's Creed Origins' Rumors: New game will be called 'Origins' instead of 'Empire'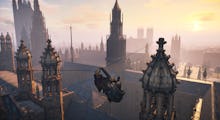 We've been hearing rumors about the next Assassin's Creed game for more than a year now. After the series finally took a year off in 2016, it's been expected to make its return in 2017 as Assassin's Creed Empire. We've heard that it's going to take place in ancient Egypt and serve as something of a narrative refresh for the series.
Now, thanks to WWG, it sounds like Assassin's Creed Empire has a new name.
Assassin's Creed Empire reportedly changed to Assassin's Creed Origins, will feature dual protagonists
According to WWG, the new game has itself a new name: Assassin's Creed Origins. It's still set in ancient Egypt, but one new wrinkle is that it reportedly has two protagonists: a man and a woman. Whether you'll get to choose which one to play as at the start and stick with them through the game or you'll switch between the two according to the story (a la Assassin's Creed Syndicate) remains to be seen.
Perhaps more intriguing are the changes being made to the Assassin's Creed gameplay structure. Per WWG:
Its structure is said to be less linear, featuring a character progression system less tied to the story. A development source we spoke to compared it numerous times to Bethesda's Skyrim. They say that impressions of the project internally are so far positive.The game will apparently grant the player considerably more freedom, featuring a greater emphasis on exploration over previous entries in the series. One source tells us that this is the biggest Assassin's Creed the company has ever created and is "huge" in scope. They say that it has been in development for "at least" several years now.
With more freedom and exploration, Origins could potentially do for Assassin's Creed what Breath of the Wild did for Zelda. At the very least, it should be noticeably different from what the series has offered in the past. 
WWG's sources also mentioned that boats and naval combat — prominent elements of i Assassin's Creed IV: Black Flag — will return and even allow you to leave Egypt's shores. Greece was mentioned as a possible location you could visit. 
Finally, the game will reportedly be revealed to the public at E3 2017 in June. All of the above lines up with the original 4chan leaks from early 2016, so either some trolls are dedicated to impersonating game developers, or Assassin's Creed Origins is the game we thought it was going to be all along. It's only another month or so until we all find out together.
More gaming news, updates, tips and tricks
Check out the latest from Mic, including our deep dive into how female Overwatch players are dealing with online harassment, an article about a fan movement advocating for more same-sex romance options in Mass Effect, a personal essay about JonTron written by a fellow Iranian-American and an article looking at cultural diversity in Overwatch.