'Blade Runner 2049' new trailer teases Jared Leto's character. Here's 4 things to know.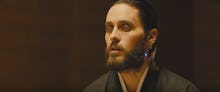 The new full-length Blade Runner 2049 trailer is here, and it more than hints at an unassailably cool sequel to its 1982 predecessor. But aside from a ton of intense cinematography and synthesizer-heavy music that harkens back to the original, there's a focus on Jared Leto's character, who appears to be the creator of androids — or Replicants as they're known in this world. 
Based on his interaction with a new Replicant, and his all-knowing demeanor in the trailer, it's likely he's the sequel's version of Dr. Eldon Tyrell from the original Blade Runner, aka its villain. And he already has some pretty harrowing one-liners:
"Every civilization was built on the back of a disposable workforce." 
Aside from the evil undertones in Leto's performance, there are several things the trailer unspools about the exciting-looking film. 
1. Harrison Ford's Rick Deckard plays a major role.
The sequel's story takes place 30 years after the original film's events. LAPD Officer K, played by Ryan Gosling, goes on a hunt for Deckard in order to learn more about a "long-buried secret" that could destroy what remains of the world. When K finds him, the trailer makes it clear that's just the beginning of their relationship. It is, however, still unclear whether or not the film will answer the age-old question fans have been asking for over 30 years since the first film came out: Is Deckard himself a replicant? 
2. The sequel is whole-heartedly embracing the tone of the original 1982 film.
From the orange-hazed cityscapes, to the cold, futuristic projections to the simplistic, robotic-sounding score, Blade Runner 2049 is doing everything it can to capture the feel of the original. The sequel's director, Denis Villeneuve, is a diehard Blade Runner fan, so it was likely of utmost importance to him to do right by the sequel — no easy task. 
"It's the first time that I had to take the universe of someone else and to make it my own," Villeneuve told Deadline. "It's very challenging, the biggest artistic challenge I've had in my life probably."
Based on his work on films like Arrival and Sicario, not to mention the prowess of his veteran cinematographer Roger Deakins, odds are it will be pretty spectacular, at least visually.
3. There's a ton of star power behind it.
It's still unclear what characters most of them will play, but there are a number of big-name actors attached to this sequel, many of whom appear in the trailer. Aside from Ryan Gosling, Harrison Ford and Jared Leto, Blade Runner 2049 boasts Robin Wright, Dave Bautista, Halt and Catch Fire's Mackenzie Davis and Edward James Olmos, who will be reprising his role of Gaff from the original.
4. Ryan Gosling's character K may be a Replicant.
This is hinted at heavily in the final scene of the trailer between K and Joi, who's played by Ana de Armas. Joi's character isn't clearly defined yet, but based on the trailer, she's likely K's love interest and very possibly a Replicant herself. 
"I always told you, you're special," Joi tells K. "Your story isn't over yet. There's still a page left," she continues while he stands over literal torn out pages in a large book. So even if Deckard's true identity is revealed in the sequel, Blade Runner fans may have a new character's origin over which to obsess. 
Check out the whole trailer here:
Mic has ongoing movie coverage. Follow our main movie hub here.