'Red Dead Redemption 2' Release Date: Live action trailer shoot hints at fall launch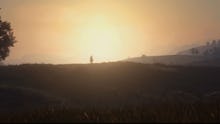 We still know precious little about Red Dead Redemption 2, Rockstar's long-awaited sequel to the 2010 open world western classic Red Dead Redemption. The official website promises a brutal tale in America's heartland and some kind of innovative multiplayer functionality, but beyond that, your guess is as good as ours. 
This newest development doesn't add much, but it's tantalizing nonetheless.
Mysterious live action commercial shoot seems to be for Red Dead Redemption 2
This comes courtesy of the Great Falls Tribune, which interviewed a film crew that was shooting a commercial near an old church in Mni-Sda Presbyterian Church in Montana. A drone was used to film two men acting out an old west gunfight near the church's belfry as a train rumbled by in the distance. The filmmakers couldn't say which video game they were promoting, but producer Jeff Guillot called it "a sequel to an existing global franchise."
Unless there's another big budget western sequel with enough money behind it for a live action trailer, this is probably Red Dead Redemption 2. Guillot went on to say the game will be released in September. That's the only thing resembling real news here, as the game's release date hasn't been confirmed yet. A now-removed UK retailer listing posited a September launch date back in March, for the record.
All this tells us is there will likely be a live action Red Dead Redemption 2 trailer at some point in the near future. Hopefully, we get to see gameplay footage before then.
More gaming news, updates, tips and tricks
Check out the latest from Mic, including our deep dive into how female Overwatch players are dealing with online harassment, an article about a fan movement advocating for more same-sex romance options in Mass Effect, a personal essay about JonTron written by a fellow Iranian-American and an article looking at cultural diversity in Overwatch.