How 1 small brand is capitalizing on the 2018 World Cup by making soccer merch fashionable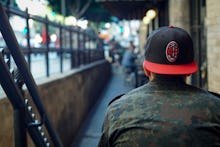 Despite being a multi-billion dollar industry, sporting merch is not exactly known for being on trend, favored more for showcasing ones affiliated fandom than for its quality make.
But one small brand, FI Collection, is seeking to change that. It's making soccer merchandise that's as well-designed and thoroughly constructed as it pleasing to look at. And now, after launching oversees in 2016, the brand is finally coming to America. 
"It doesn't matter what market we visited around the world, the soccer category, as far as merchandise specifically on the headwear category, was very basic and undeveloped," Robert St. Amant, vice president of sales and marketing, said in an interview. "We are offering higher-quality, style-driven fangear to soccer fans to help elevate the soccer headwear category in the US, which will ultimately transcend to the street lifestyle and fashion world."
FI Collection has designed the official team hats for about 20 FC soccer teams including Italy's AC Milan, Brazil's Brazil National Team, Spain's Real Madrid and France's France National Team.
There are currently several collections available, including the premier Cool collection, described as flat-brimmed snapbacks in all grey with black detailing; the Core collection, available as flat-brimmed or curved, which incorporate team colors into the cap design; and the Standard collection, which are traditional curved-brim snapbacks in solid colors.
Future collections will include a cap designed with paneling rather than traditional cap style, a curved-brim collection with subtle neon detailing underneath the logo and a curved-brim collection with contrast stitching.
The goal here, according to Amant, is to bring the fan and the fashion together. "The design and embellishments on our caps always have modern style mind. To achieve that with some of our collections, we are using industry-leading technique like sonic welding, a process that uses high frequency, ultrasonic vibrations to apply designs to the cap – to create a better look and feel," he explained.
With the last World Cup final in 2014 reaching over 3 billion viewers, it's possible the upcoming 2018 event will be even bigger, making the timing of these hats being released to the American market all the more key.
You can check out FI Collection's full range of offerings here.