Trump campaign deletes "Muslim ban" statement from website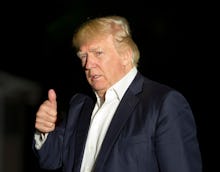 President Donald Trump's team deleted his now infamous statement calling for a "total and complete shutdown" of Muslims entering the United States from his campaign website on Monday, around a year-and-a-half after the statement was published.
The deletion appears to have come minutes after White House press secretary Sean Spicer was asked about it at his daily press briefing. Spicer told reporters he was "not aware" of the contents of the campaign website.
The URL to the statement still exists, however the text of the statement is gone when a user clicks through.
The statement has dogged Trump's quest to halt immigration to the U.S. from six majority-Muslim countries through executive order.
Multiple federal judges have blocked two executive orders Trump signed attempting to pause immigration from those majority-Muslim countries. A judge in Hawaii used the campaign statement to prove Trump intended to ban Muslims from entering the U.S. when blocking the order's enforcement.
A federal appeals court in Virginia heard an appeal from Trump's White House on Monday to allow his administration to enforce the executive order.