Just days after launching its new ad platform, Snapchat is already battling spam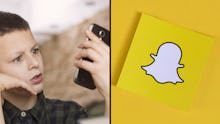 On May 4, Snap Inc. rolled out a new self-serve ad manager for buying video Snapchat ads. Less than four days after its launch, a spam-y banner-looking ad has begun to appear in people's feeds.
The ad, by LowerMyBills, promotes a suspicious and misleading claim: "Congress gives homeowners who owe less than $625,000 a once-in-a-lifetime mortgage bailout." The site has signs of a Home Affordable Refinance Program scam: It asks for your personal information and then connects you with unknown lenders.
While this isn't to say that all Snapchat advertising is going downhill or that its ad product is doomed (it's not), the out-of-place banner is indicative of the common struggles platforms face as they seek to broaden their advertising pool.
Before last Thursday, businesses could only purchase Snap Ads through the company's sales team or third-party ad tools built on the Ads API. 
The decision to shift to an open, self-serve model allows more small businesses to take advantage of the platform, theoretically opening up a wider revenue stream for the company. It also makes it easier to exploit.
The ad stands out not only because its claims are implausible, but also because visually, it doesn't look like the type of highly produced native ad content users on the platform have become accustomed to. 
Not to mention the fact that the majority of 18- to 24-year-olds who compose Snapchat's core user base don't have $625,000 mortgages to refinance.
Snapchat has one of the highest rates of engagement of any social network. Users check the app an average of 18 times per day and spend an average of up to 30 minutes on the platform. So far, the platform has remained free of the type of intrusive, irrelevant advertising that can be found elsewhere around the web.
Fred Benenson, a New York-based technologist, explained that the poor ad quality would likely only be temporary. "As users get acclimated to ads, they click … more, which means rates go up, which means quality goes up," he tweeted in response to the ad. 
Instagram, which rolled out self-service ads in 2015, also struggled with ad quality. Several users shared screenshots of bad Instagram ads to Twitter after launch. 
Eventually, the quality improved and Instagram's self-service ad platform is now thriving. Within the product's first year, over 500,000 brands advertised on Instagram.