Where Olympic runner Usain Bolt goes to relax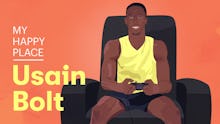 In My Happy Place, we talk to some of our favorite people about their emotional connection with an unforgettable destination.
Where does the world's fastest man like to put his feet up? In the dark comfort of his home theater in Kingston, Jamaica, where he can unwind to the soothing sounds of guns and explosions. 
Thirty-year-old Jamaican Olympian sprinter Usain Bolt treats himself to some good old-fashioned R&R with Call of Duty. "I would say my happiest time is when I'm playing video games at home alone," Bolt said in an interview.
When grueling physical activity is your day job, there's no shame in citing PlayStation as a relaxation remedy. Bolt said when he's stressed, video games help clear his mind. "I just go in my theater room, lock the door and play all day," he said, explaining that his current games of choice are Pro Evolution Soccer and, as previously mentioned, Call of Duty. 
Still, Bolt's not really alone, even during this downtime. Since you communicate out loud with other players all over the world in Call of Duty, any gamer could be playing against and chatting with Bolt — without knowing his superstar status. Bolt keeps his identity anonymous while playing, but said he and his friends "have heard people talk about me, it's cool sometimes." And while he doesn't claim to be any kind of COD Olympian, his reputation sometimes precedes him. 
"Once I heard a guy say, 'I'm trying to kill this dude, but he's as fast as Usain Bolt," he told the Telegraph in 2013. Bolt's username references one of his record-breaking 200-meter times, and fans have occasionally caught on, particularly when they hear his heavy Jamaican accent. "When they see [the screen name], they kind of ask, 'Are you Usain Bolt?' and I'm like, 'No,'" he laughed. Sneaky.
When it comes time to really get away, Bolt said he finds his bliss near sand and sea. "Anywhere where I can be on the beach most of the time, I'm big on partying — everybody knows," he said. One of his favorite spots to visit is Melbourne, where he'll visit for periods of two weeks at a time. "I try to relax by the pool or by the ocean, and then at night I go out and go clubbing," he said.
When he's unwinding at home, Bolt said beyond video games, chill time means having a bunch of friends over to his place, where they'll drink and play dominoes for fun. It appears that despite his record-breaking, superhuman stats, Bolt finds stress relief just like the rest of us average Joes. 
Mic met with Usain Bolt on Saturday at the Dream Hotel Downtown in Manhattan, where he spoke on behalf of Mumm champagne. The brand has crowned him their chief entertainment officer, which certainly doesn't sound like a bad gig.