North Korea calls Sen. Cory Gardner "human dirt" after he insulted Kim Jong-un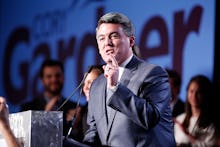 North Korea has shot back at GOP Sen. Cory Gardner of Colorado after Gardner called the country's autocratic leader Kim Jong-un a "whack job" and "a crazed maniac" during an appearance on MSNBC's Morning Joe.
According to UPI, a curse word-filled statement on North Korea's Korean Central News Agency from an government spokesman called Gardner "human dirt" and a "psychopath."
"On May 3, some [expletive] by the name of Cory Gardner, who sits on the U.S. Senate Foreign Relations Committee, perpetrated wicked blasphemy against our supreme dignity during an interview with NBC," the KCNA statement read, continuing "For a psychopath like the [expletive] Gardner, to hurl evil accusations at our highest dignity, is a serious provocation. That a man mixed in with human dirt like Gardner, who has lost basic judgment and body hair, could only spell misfortune for the United States."
Tensions on the Korean peninsula have reached their highest in recent memory amid continued North Korean missile tests and bellicose rhetoric in response from President Donald Trump's administration, which has included threats of pre-emptive strikes.
But at times, Trump has tempered his tough talk on the country with praise for Kim Jong-un's supposed ingenuity in seizing power after the death of his father Kim Jong-il, calling him a "smart cookie" in a recent interview.
In his appearance on Morning Joe, Gardner said it would be a "bad idea" for Trump to meet with Kim — something the president said he'd be "honored" to do under the right circumstances — unless North Korea abandoned its nuclear weapons program.
"This is a rogue regime, this is a madman in Pyongyang and it would be unacceptable to meet with [Kim] until he meets those preconditions," Gardner said, adding "we shouldn't be in the position of flattery."