5 amazing Mother's Day gift ideas you should steal from Father's Day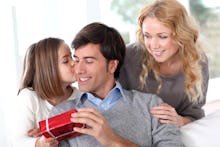 Mother's Day is almost here — you've been shopping right? If you've been combing the internet for Mother's Day gift ideas, you may find a lot of lists suggesting presents like teacups, recipe cards and household appliances. 
Ehhhh. These are all great ideas if your mom is a June Cleaver sort of mom, which some moms definitely are. But if your mother has interests that extend far beyond homemaking? You might actually be better off borrowing from the Father's Day gift lists, which tend to have suggestions that feel more like actual gifts — and less like nods to sexist stereotypes.
After all, is the best gadget for your mom really a "voice activated to-do list," as this Boston.com post suggests? Or a vacuum cleaner (yes, even if it is a robot vacuum cleaner)? You can do better. Consider these top five Father's Day gift suggestions — to steal for mom instead.
1. Noise-canceling headphones
These $350 Bose QuietComfort 35 wireless headphones were a top recommendation from Cosmopolitan, which described them as "perfect for dads who want to shut out the world and just relax a little." But moms may want a little break from noise too — especially if they work from home.
If $350 is too much of a splurge, but you're sold on the idea of giving mom an awesome pair of headphones, try the CB3 Hush headphones, which are a much more affordable $90: "an inexpensive pair of noise-canceling headphones that don't sacrifice any features or take many shortcuts on the modern design," according to Sound Guys.
2. Tools for home baristas like iced coffee or espresso makers
"Who doesn't love a chilled-to-perfection iced coffee on a hot summer day?" Ask Men inquired, suggesting this HyperChiller as a top Father's Day gift that cools coffee, tea and spirits in around a minute. But mom totally might like to enjoy a nice cold latte too, which makes this an ideal, inexpensive Mother's Day gift at just $29.99. 
If your mom is really serious about coffee consumption and you want to spend a lot more to help her make the perfect brew at home, buy this costlier $520 Breville Barista Express Espresso Machine, which delivers "coffee shop-quality espresso at home," according to Men's Health. 
3. A nostalgic camera 
Yes, we all have phone cameras. But that doesn't mean mom won't love this $115 point-and-shoot camera that prints pictures instantly: The Fujifilm Instax Gift Set, which "comes in a variety of colors," is a top Father's Day gift from Real Simple. It "also includes rechargeable batteries, extra photo strips, a carry case, a screen protector and a cleaning cloth."
If mom is a more serious photographer, consider the $500 Sony A6000, which "is a great overall camera for more advanced photographers who want something smaller than a DSLR," according to CNET. 
4. A beer of the month club membership
If you want a gift that keeps on giving long after Mother's Day is over, consider signing mom up for the $43 Beer of the Month Club, which Parenting.com recommended for "your brewski-loving papa." In this case, mom may be the one to enjoy a monthly delivery of four American microbrews. Your mom more of a DIY type? If she's got a master brewer streak, consider an at-home beer brewing kit.
There are also other options for mom to get monthly "club" gifts, including wine, flowers, fruit, chocolate and pizza. Amazing Clubs also offers a variety of options, and if you need to go classic, there's always Birchbox, a solid choice for moms interested in new beauty products. (Still — doesn't it feel good to think "outside the box"?)
5. A new way to watch TV
Even if your mom isn't living in the stone ages — having long ago swapped an overpriced cable package and crummy cathode ray tube set for a flatscreen and Netflix — you can still probably up the quality of her TV viewing. If she doesn't already have an Amazon Prime or Hulu account, you can diversify her options with a one-year gift subscription.
Another idea? The Apple TV was listed on CNET's best tech gifts for dad, but it might make mom smile too. The $149 fourth generation Apple TV lets you stream — with easy control via talking to Siri. With a record number of people cutting the cord and new live TV streaming services on the rise, this gift could actually save mom money all year long.
Sign up for The Payoff — your weekly crash course on how to live your best financial life. Additionally, for all your burning money questions, check out Mic's credit, savings, career, investing and health care hubs for more information — that pays off.