A definitive guide to getting a table at the best restaurants in the world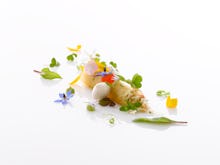 Food-obsessed travelers use The World's 50 Best Restaurants list to rethink their restaurant bucket lists every year. The 2017 list comprises incredible destinations like New York City, Lima, Peru and Spain's Basque Country, and we did the legwork so you can snag a table and plan a trip around the reservation.
Here's how to actually get into these coveted restaurants across the globe — and what it will cost you.
With three Michelin stars and four stars from the New York Times, restaurateur Will Guidara and chef Daniel Humm's inventive Manhattan restaurant has been at the peak of haute cuisine since Danny Meyer opened it in 1998. The restaurant, which is now owned outright by Guidara and Humm, has come in at the top of the list for the first time ever. It serves a glorious, hours-long, American-inspired tasting menu that can be adjusted for any dietary restrictions.
Cost: The 11-course tasting menu costs $295, which includes gratuities. You can also reserve a table at the bar or cross your fingers and walk in for a $145 five-course tasting or a la carte menu at the bar.
To reserve: The restaurant will halt service on June 9 to undergo summer renovations, and reservations for the re-opening are not currently available. During the break, you'll find the EMP Summer House pop-up in East Hampton from June 24 through Labor Day. American Express cardholders can make reservations online or by calling the number on the back of the card. Those without an AmEx can walk in for a first-come, first-served dinner in the pop-up's backyard.
Chef Massimo Bottura's restaurant has moved to the No. 2 spot, but his signature pillowlike tortellini in cream of Parmigiano-Reggiano — one of the best bites this writer has ever had — is still top notch.
Cost: A nine-course tasting menu starts at 220 euros ($239), with optional wine pairings for an additional 130 euros ($141). You can also go a la carte, but with apps and pastas starting at 60 euros ($65) and mains at 80 euros ($87), you won't really get much of a deal creating your own meal. Think of these one-offs as a supplement to the tasting rather than a low-cost taste of Bottura's mastery.
To reserve: Reservations for lunch and dinner in the 28 dining room seats are released online at 10 a.m. Central European Time for a booking three months in advance (October reservations open on July 1). A representative from the restaurant said that the tables tend to vanish as soon as they're open, so visit the website at precisely 10 a.m. for the best shot — or simply add your name to the waitlist and be prepared to purchase a plane ticket on short notice.
About an hour's drive outside of Barcelona, chef Joan Roca's recently reopened three-Michelin-starred restaurant is a hot ticket. El Celler defines itself as a freestyle restaurant, meaning you never quite know what avant-garde inspiration will strike Roca in the kitchen and end up on your masterfully crafted plate. For a slightly less indulgent experience, head to Roca's Barcelona restaurant, Roca Moo, which offers the same level of cooking by chef Juan Pretel, but is much easier to get into. Hotel Omm's Roca Bar offers another casual offshoot to prep you for the day you finally get into El Celler.
Cost: According to the Michelin Guide, the tasting menu starts at 170 euros ($185), with a la carte options starting at 125 euros ($136).
To reserve: El Celler takes reservations up to 11 months in advance, with a new month opening at midnight on the first of every month. Getting a seat is tough, but at least you'll have a year to plan your trip to Spain.
Mirazur, Menton, France
Chef Mauro Colagreco's two-star Michelin restaurant is housed in a 1930s building surrounded by lush grounds. Seasonal dishes inspired by the mountains, sea and land change regularly, so you never know what you're going to get on Colagreco's artfully plated dishes.
Cost: The best deal here is lunch during the summer, served Wednesday through Friday for 65 euros ($71). The most basic dinner menu starts at 110 euros ($120), with a signature menu featuring premium ingredients like blue lobster and osetra caviar priced at 210 euros ($228).
To reserve: Reservations are available online. If there are no tables left on your preferred date, or you find yourself in Menton with nowhere to eat, a representative recommends calling the restaurant for last-minute cancellations.
The fifth-best restaurant in the world — and the highest-ranked in Latin America — is chef Virgílio Martínez and Pía León's Central, which celebrates Peruvian produce with colorful, fresh dishes that are immensely sophisticated.
Cost: The tasting menus here range from the vegetable-focused 11-course menu, at 348 soles ($105), to the 17-course journey of biodiversity, which costs 427 soles ($130) per person.
To reserve: Reservations can be made online, though tables fill up months in advance. Look out for an open spot on the calendar, or add your name to the waiting list for a specific date.
Etxebarri is one of the many Michelin-starred restaurants in Spanish Basque Country to make the World's 100 Best list. Mugaritz near San Sebastian (No. 9), Arzak in San Sebastian (No. 30), Azurmendi near Bilbao (No. 38), Nerua in Bilbao (No. 56) and Martin Berasategui in Lasarte-Oria (No. 77) all rank this year. Etxebarri stands out for its flame-grilled food, flavored with unique woods by chef Victor Arguinzoniz. The menu changes daily based on market availability.
Cost: The daily changing tasting menu starts at 140 euros ($152).
To reserve: Reservations are released online 120 days in advance, and a representative confirmed that the tables fill up pretty much as soon as they're made available. You can add your name to the waiting list or call the restaurant for last-minute lunch cancellations Tuesday to Sunday.
Rated the best restaurant in Asia, Gaggan serves progressive Indian cuisine by Indian chef and Bangkok transplant Gaggan Anand. The tasting menu is a play on both traditional Indian dishes and the street food Anand enjoyed as a child. A vegetarian menu is also available.
Cost: The tasting menu starts at 5,000 bahts per person ($144).
To reserve: Reservations must be made at least a month in advance. They can be made online or by phone. If you're in Bangkok, it never hurts to call the restaurant to see if they have any last-minute free tables.
Maido, Lima, Peru
Chef Mitsuharu Tsumura's constantly evolving Peruvian-Japanese fusion restaurant serves everything from dumplings and Japanese noodles to seafood hot dogs. For a more understated taste of Tsumura's cooking, visit Sushi Pop, the chef's casual sushi restaurant, also in Lima's glitzy Miraflores district.
Cost: At Maido, guests can chose from the a la carte sushi menu, which also has cooked dishes, or the a la carte Nikkei menu in the main dining room. A 13-course tasting in either space costs 415 soles ($126) for a vegetarian menu and 635 soles ($193) for seafood.
To reserve: Reserve a spot at the sushi bar or main dining room online. Based on current availability, you should be able to find a seat about a month in advance.
Mugaritz, Errenteria, Spain
Another Basque masterpiece, Mugaritz is all about rethinking your senses and gastronomic preferences as you nibble your way through 25 distinct bites over the course of three hours. Chef Andoni Luis Aduriz goes through an intense creativity period from January to mid-April, so the dining room is only open from mid-April through December.
Cost: The tasting menu costs 204 euros ($222), including taxes.
To reserve: To secure a spot, you'll have to complete the online request form. If you're approved, you'll be emailed a code and can book a lunch or dinner, hopefully on your preferred date.
Located in a modern glass cube in Vienna's Stadtpark, chef Heinz Reitbauer's modern Austrian restaurant goes way beyond goulash and wiener schnitzel. Expect plenty of freshwater fish, as seen in Reitbauer's signature dish, where the char is cooked at the table in hot beeswax and topped with pollen, yellow carrot and sour cream.
Cost: A six-course menu costs 142 euros ($154) and the seven-course menu costs 152 euros ($165). You can also order a la carte, with plates starting at 34 euros ($37).
To reserve: A representative from Steirereck said dinner reservations for Monday through Wednesday should be made five weeks in advance, and 10 weeks in advance for Thursdays and Fridays. If you want to eat lunch at Steirereck, you won't need as much lead time. Reservations can be requested online.
Chef Dan Barber's ode to locavorism and food-waste-free living shines through at his rural New York farm and restaurant, named the best restaurant in America by Eater. His dishes are made from grains, vegetables and proteins grown locally in the Hudson Valley, and the menu changes monthly. Elsewhere on the property, the Blue Hill Café and Grain Bar also sells light snacks, coffee and grab-and-go baked goods and salads.
Cost: A tasting menu at Blue Hill at Stone Barns costs $258, not including tax or the 20% administrative fee added to the bill. Beverage pairings will add another $168 per person. A corkage fee of $90 applies if you bring your own bottle.
To reserve: Though there are no tables reserved for walk-ins, a representative said the restaurant maintains an active waitlist. Add your name and availability to the list, which is referred to nightly as tables become available due to cancellations. Reservations open up 60 days in advance online, so check daily for the next round of seats.
Chef Alain Ducasse's 31-year-old Parisian paradise focuses on garden-fresh produce all year round. The restaurant has had three Michelin stars for more than two decades and remains one of the most impressive and elegant restaurants in the city. Ducasse employs local gardeners to grow the organic produce used on evolving tasting menus.
Cost: The best deal is the lunch tasting menu, a 145-euro ($158) feast improvised by the chef based on produce that's in season. Ordering a la carte adds up quickly, with small dishes starting at 74 euros ($80). The 12-course dinner tasting costs 390 euros ($424), though the vegetarian menu is slightly less at 320 euros ($348).
To reserve: According to a representative from l'Arpège, getting a reservation in the dining room is "fairly easy." You can usually expect to find a table on the day you want to dine, though Mondays and holidays often have a short waitlist. The restaurant is closed on weekends. Reservations can be made online.