'NBA 2K18' Legend Edition: Lenticular, features, price and cover for the Gold version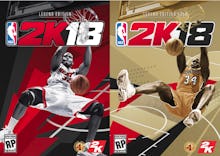 NBA 2K18 will be available for PlayStation 4, Xbox One, Nintendo Switch and PC via Early Tip-Off on Sept. 15, for gamers who pre-order, per a press release provided to Mic on Monday. Here's what you need to know about 2K Games pre-order plans for the new title.
NBA 2K18 Legend Edition: Gold and other pre-order options
Shaquille O'Neal has been tabbed as the cover athlete for the Legends Editions which carry a $99.99 price tag — $149.99 for the special Gold edition.
The latter is exclusively available at Gamestop. It also includes what is called a "lenticular" cover. In case you were wondering what this means in an NBA 2K sense, it's essentially a shiny cover that proves you dropped the extra coin to get this collector's item. It's very similar to the finish on old album cover sleeves.
The regular Legends Edition has seen a price hike from $79.99 last year, and the Gold Edition has jumped from $99.99. 
NBA 2K18 Legend Edition: What else do you get with Gold?
In addition to the lenticular cover, here's a breakdown of what's included in both Legends Editions:
The offer is heavy on in-game content and a few interesting physical items like the aforementioned lenticular cover and trading cards. 
The level of appeal for this package will hinge on three things:
1. How much do you love Shaquille O'Neal? The big man's fingerprint is all over the incentives. Major fans of the Diesel will see this package as a must-have, even if they're not hardcore gamers.
2. How big of a head start do you want as it pertains to MyCareer and MyTeam? The 100,000 and 150,000 VC bundle is a significant base.
3. How big of an NBA 2K nut/collector are you? If you're one of those fans that simply loves NBA 2K and you're building a collection of each version of the game, then this is a must-buy for you.
Stay tuned as we wait to hear which current NBA star will grace the cover of the Standard Edition.
More sports gaming news and updates
Love sports games? Check out more content from Mic, including tips for leveling up your NBA 2K17 MyPlayer, playing quarterback in Madden 17, our review of MLB The Show 17 and the classic Nintendo sports games we want to see on the Switch.