Trump changes Twitter banner to say "no evidence" after Sally Yates' Russia testimony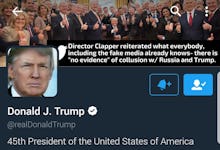 President Donald Trump once again turned to his Twitter account to launch a series of missives at a rival, this time targeting former acting U.S. Attorney General Sally Yates' testimony at a Senate hearing on the alleged Russian conspiracy to throw the 2016 elections and its possible connection to fired national security adviser Michael Flynn.
Trump blasted both the hearing and Yates personally, pointing to former Director of National Intelligence James Clapper's testimony he personally had not seen any evidence of collusion between Trump's campaign and Russian intelligence assets — conveniently leaving out the part where Clapper said he was not privy to all knowledge obtained by another FBI investigation.
In a series of tweets, the president doubled down on his narrative the rumors of collusion are a "total hoax" aided and abetted by the "fake media." Then, rather than simply pin one of the tweets, he inexplicably doubled down by changing his own Twitter banner to proclaim there was "no evidence" of collusion.
Visitors to Trump's Twitter page are now greeted with a banner photo touting Clapper's "no evidence" quote — a clear sign the president is rattled by the ongoing investigation and perhaps did not consider whether the switch would just spread the perception he has something to hide even further.
During the hearings, Yates pointedly noted she could not answer whether she had seen such evidence because it involved classified information, though she cautioned that did not mean the answer was yes.
Yates also testified she warned the Trump administration that intelligence officials were concerned Flynn could be blackmailed for lying about a secretive phone call with Russian ambassador Sergey Kislyak to other administration officials including Vice President Mike Pence. Trump subsequently ignored the warnings, only firing Flynn after the full extent of the incident was slowly revealed via a series of damaging leaks and media investigations.
Former officials from former President Barack Obama's administration also said Monday they advised Trump to steer clear of Flynn, who has subsequently been reported to have a web of foreign entanglements, including accepting Russian money.
Trump later fired Yates after she refused to defend his order denying entry at the border to nationals of seven (now six) Muslim-majority nations and all refugees. Yates said she could not defend a law she believed was unconstitutional; the ban subsequently was thrown out by courts, with the administration continuing to appeal the decisions.
While the president appears eager to discredit Yates in the eyes of the public, her long history of successful cooperation with Republican lawmakers will likely undermine the credibility of that line of attack.
Numerous Twitter users immediately began mocking Trump's new banner photo, including by modifying the image to quote the now-infamous Access Hollywood tape and making unfavorable comparisons to autocratic messaging elsewhere in the world.