College meme groups are cashing out, getting into sponsored content and meme-based marketing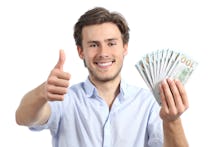 The fateful day young meme enthusiasts across the country feared most has arrived: College meme groups are getting into sponsored content. 
It began, as before, with a Facebook group called "UC Berkeley memes for edgy teens." On April 24, founder Chris Tril posted to the group an awkward image advertising PlushCare, a health care app by which users can book online doctor's appointments for ailments like pink eye, strep throat and sinus infections.
A few days later, Tril reached out to university news network the Tab and asked if they'd like to advertise to the meme page's audience of nearly 100,000, according to the Tab itself.
Soon after, Columbia's meme group posted an ad for restaurant chain Sweetgreen, asking members to "post their dankest Sweetgreen meme" for the chance to win a month of free salads.
While admins at other schools say they have no immediate plans to monetize their meme groups, "sponcon" is a virus that travels fast.
Christina Hill, a 19-year-old cofounder of Columbia University's meme group, said she and fellow cofounder Lauren Beltrone organized the Sweetgreen promotion.
"We proposed a potential digital marketing campaign to promote brand awareness of the Columbia University Sweetgreen through the dispersion of meme-based advertisements for the page," Hill told Mic over Facebook Messenger. 
Hill clarified that rather than the group receiving direct payment from Sweetgreen, the restaurant offered compensation in the form of free meals.   
"I think, to a certain degree, we were inspired to begin meme advertisements after seeing Gucci's meme campaign," Hill said. 
Gucci recently hired several meme-makers to produce memes for the brand on Instagram as part of a campaign titled #TFWGucci.
"Perhaps there will be a time when sponsorship becomes overwhelming on the page, but right now I think it provided a new boost in page engagement and was a fun outlet for the community," Hill said.
Meme masters at other colleges are unhappy with the budding trend
"I have many objections to the idea of memes being used as a platform for profit," Ephraim Sutherland, cofounder of Yale's "Yale Memes for Special Snowflake Teens," told Mic. "Memes are about free exchange of ideas, and the entire point of a meme page is to provide a platform to express ideas in a humorous way that isn't beholden to the same restrictions, both explicit and implicit, of other spheres."
"I know other groups have started to use memes as a platform to advertise and I've been approached numerous times about plugging campus campaigns or startups, but [I} always refuse," Sutherland added.
Founders of meme pages at Duke, University of Chicago and University of Pennsylvania also said they would reject sponsorship offers from advertisers.
"I have noticed the sponsored content on other pages and I'm not a big fan," Luke Cuomo, founder of Dartmouth's "Dartmouth Memes for Cold AF Teens," told Mic. "I understand the appeal of sponsored content. I've had offers in my group, but I have turned them down even though it would be a very easy way for me to make a quick buck."
"I think that if I were to allow sponsored content, it would not only betray and upset the members of my group, but it would also tarnish the legitimacy of the group," Cuomo said.
Jason Wong, 19-year-old internet marketer and author of The Holy Meme Bible, echoed these concerns and cautioned group admins to tread lightly. 
"Once money is involved and only the top people get the benefits of it, the community will be less enthusiastic about contributing content," Wong said. "This could eventually lead to the death of the page."
However, John Lynch, a 21-year-old freshman at USC and active participant in the USC meme group, said the group is considering launching sponsored content "very soon."
"We're not going to monetize it, but actually take a philanthropic approach," Lynch joked. "Any ad revenue we generate will be donated to a charity that's very near and dear to my heart, The John Lynch fund for designer clothes, weed and BMW leases."