Iowa Rep. Rod Blum storms out of interview after simple question about donors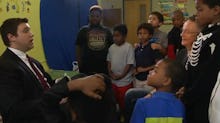 Republican Iowa Rep. Rod Blum stormed out of an interview with KCRG-TV9's Josh Scheinblum while surrounded by schoolchildren, refusing to answer a question about political donations.
"I think some would make the case that you represent all Iowans," Scheinblum began the interview — according to Scheinblum, in reference to Blum's decision to require those attending his town hall meetings bring IDs.
"The decisions that you make impact all Iowans, so shouldn't all Iowans have a voice at the table or at least have an option to?" he continued.
"I don't represent all Iowans, I represent the first district of Iowa," Blum said, laughing. "That'd be like saying, shouldn't I be able to, even if I live in Dubuque go vote in Iowa City during the election because I'd like to vote in that district instead?"
"Would you still take donations from a Republican in Iowa City?" Scheinblum responded.
And like that, Blum was done, standing to remove his microphone even as the kids looked at him in confusion.
"I'm done," Blum said. "... It is ridiculous. This is ridiculous. He's just gonna sit here and just, just badger me."
"We just asked why you wanted to the interview, that was it," a clearly surprised Scheinblum said. "Congressman, you, come on, take a seat. Congressman, I insist."
"Unbelievable," Blum shot back as he left the room. "Would you take donations from a ... wow."
As the Hill noted, during the same evening Blum was chastised at a town hall meeting by angry constituents over his support of the American Health Care Act, the GOP-controlled House of Representative's plan to repeal key provisions of the Affordable Care Act. The Congressional Budget Office analyzed a prior version of the bill and concluded it would result in at least 24 million people losing access to insurance coverage by the year 2026.
The angry reception many other Republicans have received at town hall meetings might explain why Blum said only constituents would be allowed in. According to the Gazette, the congressman has previously characterized attendees at those town halls as activists who want to "show up and yell."
However, the trick seems to have failed to defuse tensions. The Huffington Post's Igor Bobic tweeted that at the town hall, Blum responded to a question on why constituents should still "trust you" after he left the interview by explaining he believed he as being "ambushed" by a reporter with an "agenda."