Kamala Harris on Republican health care remarks: "What the fuck is that?"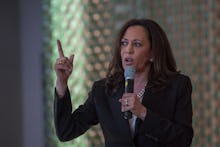 If you were stunned by Republican Rep. Raul Labrador's recent assertion that "Nobody dies because they don't have access to health care," you're not alone.
Democratic Sen. Kamala Harris was also angered by the claim — and didn't hold back as she took Labrador and the GOP to task during an appearance on the Pod Save America podcast. 
"You might as well say, 'People don't starve because they don't have food,'" Harris said on the podcast, which is run by former members of President Barack Obama's staff. "What the fuck is that? What are you saying? How can you say that?"
Republicans rushed the American Health Care Act — their answer to the Affordable Care Act — through the House Thursday despite some GOP representatives freely admitting they hadn't read the bill. It now heads to the Senate, where it's path forward is full of uncertainty. 
Harris — who was elected to the Senate in 2016 and has quickly emerged as a star in the Democratic party — said on the podcast that the best way to stop AHCA is to "speak the truth" about it. 
"The truth is that these folks are playing politics with public health," Harris said. "If Republicans want people to lose their health care, then the Republicans need to lose their job." 
"[Republicans are] engaged in all this happy talk that is bull — not truth," Harris continued.
The California Democrat has been a prominent critic of the AHCA and other Trump policies, and has urged people to get involved and share their personal stories about the impact the Republican health law would have on them.
While conservatives predictably got up in arms about Harris' colorful call-out of Labrador's comments, the remarks were cheered by critics of the AHCA.