James Comey's testimony on Hillary Clinton emails got it wrong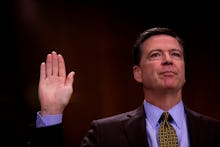 FBI Director James Comey testified under oath last week that top Hillary Clinton aide Huma Abedin "had a regular practice of forwarding emails" to her husband, Anthony Weiner, for him to print out, so that she could deliver them to the secretary of State.
However, a report from the investigative news outlet ProPublica says Comey's testimony was incorrect — and that the FBI is now scrambling to figure out how to set his statements straight.  
Not only was Comey's claim that Abedin made "a regular practice" of forwarding Clinton's emails to Weiner incorrect, but his claim that Abedin forwarded "hundreds and thousands" of emails to Weiner was also wrong, according to ProPublica's report.
ProPublica also reported that most of the Clinton emails on Weiner's computer were there because Abedin backed up her Blackberry, not because she forwarded the emails, ProPublica reported.
The Clinton emails found on Weiner's computer sent shockwaves through the body politic just 11 days before the 2016 election. After finding the emails, Comey sent a letter to Congress suggesting the FBI was reopening the Clinton email case, before announcing no charges would be filed two days before the election.
Some analysts, including FiveThirtyEight's Nate Silver, say the Comey letter and media coverage of it helped sink Clinton's bid. 
"If Comey's letter altered the outcome of the election, the media may have some responsibility for the result," Silver wrote in a piece published May 3, the day of Comey's incorrect testimony.