Donald Trump mulls sending 3,000 U.S. military troops to Afghanistan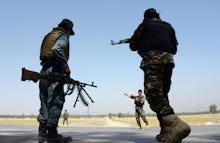 President Donald Trump is considering sending 3,000 American troops to Afghanistan — a shift in U.S. strategy that betrays the president's previous comments on the conflict in the Middle East.
According to a report from the Washington Post, the additional troops would be an attempt to fix the worsening security situation in Afghanistan by working out a deal with the Taliban.
That policy is a change from former President Barack Obama's administration, which sought to draw down the U.S.' role in Afghanistan, lowering the casualties and cost of a war that began there more than 15 years ago.
Trump himself has blasted the use of American troops in Afghanistan, saying in a 2013 tweet that the U.S. has "wasted an enormous amount of blood and treasure in Afghanistan. Their government has zero appreciation." 
"Let's get out!" Trump tweeted at the time.
Earlier that same day, Trump implored Americans not to "allow our very stupid leaders to sign a deal that keeps us in Afghanistan through 2024 — with all costs by USA."
The decision to ramp up U.S. military presence in Afghanistan flies in the face of his promise to take an "America First" strategy in his presidency.
"We defended other nation's borders while refusing to defend our own. And spent trillions and trillions of dollars overseas while America's infrastructure has fallen into disrepair and decay," Trump said in his inaugural address.
Trump went on to call that strategy "the past."