Progressive Moon Jae-in elected president of South Korea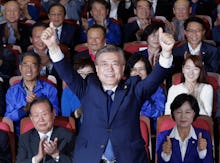 Moon Jae-in has been elected president of South Korea, according to reports. 
Moon, a liberal, was projected to earn 41.4% of the vote in exit polls conducted by the country's three main broadcasters, according to the Washington Post. 
Hong Joon-pyo, a conservative, will finish second with 23.3% and Ahn Cheol-soo, a centrist, will finish third with 21.8%, the polls said. Each has reportedly conceded the election to Moon.
"I felt the people's earnest desire for government change to create a country worthy of being called a nation," Moon told reporters Tuesday after casting his vote in Seoul.  
The election follows the ouster of President Park Geun-hye in a massive government corruption scandal in March. Park, the first woman to lead the country, was impeached from the Blue House after allegedly using her office to engage in bribery and extortion. She is currently in jail while on trial for the charges. 
Moon, a progressive 64-year-old civil rights lawyer who was favored to win Tuesday's election, will end nine years of conservative rule in South Korea after previously finishing second to Park.
"I ask you all to be with me until we accomplish the two tasks we have — reform and unity," Moon told supporters after the exit polls, according to Bloomberg. 
Moon assumes the presidency amid high tensions on the Korean peninsula. Both the United States and South Korea had taken a hard stance against North Korea, which has continued to threaten its neighbors and the U.S. with nuclear weapons. 
But Moon has argued for a more delicate approach in dealing with North Korea. He is open to granting concessions to the isolated nation in exchange for the freezing of its nuclear program, and will likely aim for more diplomatic solutions in Pyongyang.
"We need to be able to apply some pressure and coercion on North Korea, but on the other hand we should also start discussions and dialogue with North Korea," Moon said, according to Foreign Policy. 
That view may put him at odds with President Donald Trump, who has said a "major, major conflict" may be possible between the U.S. and North Korea. Moon has said that any action the U.S. takes "should be made in close consultation with South Korea," according to Time.
"If the North continues with its nuclear provocations, it's natural that South Korea and the U.S. will impose stronger sanctions against North Korea," Moon told Time. "But we need deft crisis management skills to ensure that rising tensions do not lead to war."
In a nationally televised address, Moon said that he would work with his rivals to create a South Korea where "justice rules and common sense prevails," the New York Times reported.  
"I will be a president for all the people," Moon said.
May 9, 2017, 11:25 a.m.: This story has been updated.