Sexual assault in high school sports packaged as "hazing," often unreported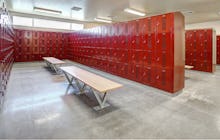 Hazing in sports is not the exclusive purview of college teams, and according to an Associated Press investigation, that's one of many misleading labels that allows sexual abuse of school-age boys to go unreported by schools, and thus, undetected by authorities.
In the course of its larger look into sexual abuse in K-12 schools, which uncovered roughly 17,000 reports of sexual assault in a four-year period, the AP noticed that athletic environments figured frequently in 300 instances of "student-on-student sexual violence." It then identified 70 cases in which players had been assaulted by another teammate over the past five years. 
Those cases don't begin to tell the whole story, because much of the time, sexual assault in sports is categorized as "hazing" or "bullying" or "inappropriate physical contact" and therefore isn't reported to the state. The AP found that this form of sexual abuse largely affects boys, and that coaches are often complicit in covering up the behavior, keeping it quiet or rebranding it as something less threatening. 
Take for example, as part of one these "hazing" rituals — upperclassmen on Georgia's Parkview High School baseball team ambushed junior players one night during an away tournament in June 2015. After warning the younger boys to "sleep with one eye open," the older boys attacked groups of freshmen in their rooms that night, holding some of the younger boys down and allegedly digitally penetrated their rectums through their shorts and pummeled their testicles. According to the AP, one player reported the incident as sexual assault, which the Gwinnett County Public Schools system subsequently downgraded to "inappropriate physical contact" and, eventually, "hazing."
At the time of publication, the Gwinnett County Public Schools system had not returned request for comment, but told the AP that "inappropriate physical conduct" was "more inclusive" of the "diversity of the types of misconduct alleged." But as the AP pointed out, this behavior meets federal standards for rape and sexual assault. 
Parkview High is far from the only school editing its sexual misconduct reporting records: This is a national trend, because keeping sexual abuse quiet allows schools to keeps running their sports programs. 
"Language is everything," B. Elliot Hopkins, a sports safety expert at the National Federation of State High School Associations, told the AP. "If anyone knew that their kid was going to run the risk of being sexually assaulted to be part of a team, we wouldn't have anyone playing any sports."
But covering up sexual abuse fosters a "culture of acceptance," as the AP put it, a cycle that becomes entrenched and risks continuing unabated, unless schools start calling this brand of hazing what it really is: sexual assault.