Who killed Mrs. DiLaurentis on 'Pretty Little Liars'? Season 5 mystery finally solved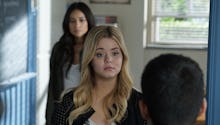 Pretty Little Liars finally revealed who killed Mrs. DiLaurentis — and why — on Tuesday night.
[Editor's note: This article contains spoilers for season 7, episode 14 of Pretty Little Liars.]
For those keeping track of the unanswered questions on the Freeform series, Alison's mother, Jessica, was killed off in season five, episode two. Pepe, Alison's rescue/ service dog, unearthed the body in a shallow grave in the Hastings' backyard. 
A toxicology report a few episodes later revealed that someone switched Jessica's low blood pressure medication, causing her heart to stop. But who killed her? "A" sent Alison a video claiming to have buried her mother the same way that he/she watched Jessica bury Alison. No other information was revealed and Mrs. DiLaurentis' death was basically forgotten about (and Pepe was never seen again!) until episode 14 of season seven.
So, who killed Jessica DiLaurentis? It was none other than her twin sister, Mary Drake! 
Peter Hastings reveals the identity of Jessica's killer when he discovers that Spencer is still searching for her birth mom. Spencer doesn't believe that Mary would hurt her, which is why Peter drops the bombshell. Peter explains that Mary stole his blood pressure pills to drug her sister and then tried to frame him for her murder.
So, does this mean that Mary Drake is "A" or "AD"? Is Peter telling the truth? And would Mary really hurt Spencer? That's for another episode of Pretty Little Liars to answer.
Mic has ongoing Pretty Little Liars coverage. Check out our main Pretty Little Liars hub here.