The girl scout who stood up to a far-right extremist is now under police protection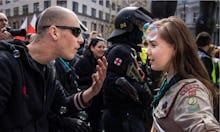 Last week, the internet found a hero in Lucie Myslíková, a 16-year-old Czech girl scout who was photographed going head-to-head with a far-right extremist at a protest in Brno, Czech Republic, on May 1. 
But while Myslíková received mostly positive attention for her show of bravery and resistance, the teen has since been placed under police protection after facing a barrage of threats from the opposition.
According to the Associated Press, Czech authorities haven't provided many details about the threats except to confirm that they were prompted by the viral photo from this month's protest. Myslíková told the outlet she was frightened by the threats of violence and was glad the police had intervened. 
In an interview with the Washington Post, Myslíková said part of her showdown with the far-right demonstrator involved him telling her, "Those refugees will rape you." He continued, "Maybe you're not scared, but I'm afraid for my daughter, that they will rape her."
Myslíková said she simply told the man, "They're fleeing a war. This is about life."
Myslíková and her fellow girl scouts — who'd been holding banners reading "A good patriot doesn't Heil" — hadn't necessarily meant to provoke the opposition, let alone engage them in a dialogue. But there was something about their message of peace that incited the far-right demonstrators.
"The scouts started peacefully, playing guitars and drums; I was hopping around and dancing, occasionally shouting something out," Myslíková told the Post. "Some people may say we provoked them, but we wanted to show that we were against what they were saying and against their very presence."