Why is 'American Idol' coming back a year after it ended? ABC lands revival for 2017-2018.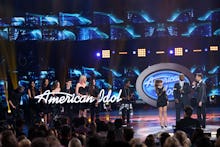 American Idol's grand series finale on Fox is not such a distant memory — it happened just in 2016, after all. The reality TV titan, which initially dominated airwaves before its natural conclusion after years of ratings erosion, exited in spectacular fashion.
So, naturally, in the era of reboots and rehashes, American Idol is already set for a comeback — this time on ABC. The Alphabet Network confirmed Tuesday morning that American Idol will join its lineup in the 2017-2018 season. Judges and host have yet to be announced.
Should the show air during its usual winter berth, as it did for the majority of its run on Fox, that means 2017 will be the only year since 2002 without a season of American Idol. What inspired such a quick revival? And what will ABC's version of the show even look like?
In ABC's press release about the revival, Disney-ABC president Ben Sherwood said that the match of network and show "has a nice ring to it."
"Idol is an entertainment icon, and now it will air where it belongs, in ABC's lineup of addictive fan favorites alongside Dancing with the Stars and The Bachelor," he added.
It's true: ABC has a much stronger reality brand than Fox does. NBC was mulling the revival for a while — they have an exclusive deal with Simon Cowell that would have allowed him to return to the show. But as of April, both NBC and Fox passed, making Cowell's return impossible.
ABC, on the other hand, was staring down a very possible writers' strike that would have necessitated more reality programming, as it did during the 2007-2008 writers' strike. American Idol, an established brand with a core audience, was likely an appealing opportunity.
Of course, the strike didn't happen, so ABC moving forward is an odd call. If Idol does indeed air during that winter half-season, it will air at the same time as a new season of The Bachelor. Idol presumably will still air in two-hour increments, if not having a separate results show, which have mostly gone out of style, though notably The Voice still has them. Combined with The Bachelor, that's four hours out of ABC's 15 hours of primetime to program Monday through Friday — not much space remaining for building new scripted series.
It's hard to figure exactly how Idol and ABC will mesh, but it's easy to understand why they pulled the trigger. At its height, American Idol was a cultural phenomenon that churned out some of the biggest stars of the day. Even a fraction of that success is something any network would want.
Though it hasn't been an Idol-less world for long, the music industry has changed. This new incarnation will have to work differently as well. Expect more incorporation of social media, for instance. Such changes could always backfire for an audience that wants the old Idol, but not all shifts are bad news. Perhaps most interesting is who ABC reportedly wants as a judge: original winner Kelly Clarkson. Should the delightfully quirky Clarkson actually join, this new Idol might become must-see TV after all.
Mic has ongoing American Idol coverage. Follow our main American Idol hub.