San Francisco just got $100 million to fight homelessness. Can it fix the problem?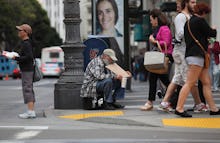 A fundraising organization is promising $100 million to fight San Francisco's chronic homelessness problem, in what may be the largest pledge of its kind. Now the question is, how will that money be spent?
The $100 million pledge comes from the Tipping Point Community, a fundraising organization based in San Francisco, that works to fund effective anti-poverty groups and initiatives.
"We're seeing too many people on the street suffering. ... It's time we draw a line in the sand," Daniel Lurie, Tipping Point's founder and CEO, told the San Francisco Chronicle on Sunday.
"Things have to change. It's no secret what needs to be done," Lurie said. "We want to build on the great work that has happened at the city level and expand on innovative solutions."
Speaking on the phone on Tuesday, Lurie said that Tipping Point has been working on anti-poverty initiatives for 12 years, but that "people kept asking us what are you doing about those that are living on the streets."
The idea for a massive anti-homelessness initiative was "kickstarted" when an anonymous donor offered to help fund the efforts, Lurie said. "We've gotten a  number of really generous commitments in a really short amount of time."
San Francisco has 6,686 indigent residents, according to a count from 2015 — 1,745 of whom are chronically homeless, the Chronicle reported. The city's homeless population exists in stark contrast with San Francisco's rising rents and pricey real estate driven by the area's tech startup boom. 
According to one 2017 report, San Francisco has the highest rent per square in the world — beating out cities like London, Hong Kong and New York. So how will the Tipping Point's $100-million pledge fight the problem?
The Chronicle reported that the goal of the $100 million is to cut the population of chronically homeless people in the city in half over the next five years by putting the money towards solutions like permanent housing, mental health services and initiatives to help the city get more state and federal funding.
According to the Tipping Point's website, the organization, which will maintain control over the funds, will partner with the city of San Francisco to implement a "three-pronged" strategy to fight homelessness. Those prongs, according to the website, are to "create new housing units," "attack the root causes of homelessness, including improving the mental health, child welfare and criminal justice systems" and "boost the capacity of the public sector."
Lurie said that Tipping Point will work with the city and non-profits it's partnered with in the past to target the fight against homelessness in San Francisco.
While new initiatives are exciting, at least one expert in fighting homelessness urges "cautious" optimism about Tipping Point's big pledge.
"What we need, to really end homelessness, is a significant investment in affordable housing," Megan Hustings, director of the National Coalition for the Homeless, said in a phone call on Tuesday.
Hustings said that, while programs that target specific homeless populations with direct services have proven "very successful" for "select populations," what the U.S. really needs to solve its homelessness problem is a major overhaul of public housing.
"There are very entrenched, underlying root causes of income inequality and homelessness," Hustings said. "We need incredible investment in affordable housing, ... not necessarily affordable housing for specific populations, but across the board."
Hustings said part of that solution involves changing the rules that govern affordable and public housing on city and state levels. 
Lurie acknowledged this too, saying that Tipping Point is "open to" the idea of advocating for legislation that would address affordable housing issues that help perpetuate homelessness. He also said that, no matter how generous private philanthropy is, there still needs to be change on a government level.
"We need government to solve this problem," Lurie said. "There needs to be more investment in affordable housing nationwide ... I don't think that philanthropy can ever fill that gap."
May 9, 2017, 2:23 p.m.: This story has been updated