Nintendo Switch eShop Maintenance: Update allows you to save your credit card info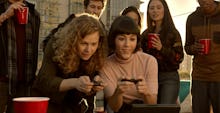 When the Nintendo Switch eShop launched, it was barren. The online storefront had a handful of games, but it was missing core features found on other Nintendo systems. Pre-downloads, storing payment info and even background music were left out of the eShop's launch on Switch. 
With the latest Nintendo eShop maintenance update, your Switch finally gets one of the three. And it's not a killer soundtrack.
Nintendo Switch eShop Maintenance: You can finally save your payment info in your account
The Nintendo Switch eShop finally lets you save your credit card info inside the app. Instead of having to re-enter your card information after each purchase, you can buy games much quicker.
To save your payment information, head to the eShop and tap on your Mii icon on the top right. From here you'll be able to add your card's information to allow for speedier checkouts. 
Nintendo Switch eShop Maintenance: There are still pieces missing from Nintendo's digital download store
Nintendo still has a way to go before their eShop is complete. The digital storefront continues to be lacking with the virtual console. While the Wii U and 3DS allowed gamers to play legacy games from Nintendo's older consoles, the Switch can't at the moment.
In addition to older games, Nintendo's eShop could do a better job with their apps. Netflix and YouTube would put it on par with Nintendo's 2011 handheld, the 3DS, and every other internet-connected screen on the market. But most of all, Nintendo needs to add back in that sweet, sweet eShop music. Get the eShop's DJ spinning some fire tunes again, Nintendo, and watch the impulse buys flow in.
Check out more Nintendo Switch news and coverage
Looking for more Nintendo Switch news? Check out how blind gamers are using the Nintendo Switch and why you can't get your Mii to look quite like you. Nintendo's left Joy-Con issue turns out to be a hardware problem — here's how to solve it. Find out how to buy a console amidst the recent restock. Learn why the Switch cartridges taste so bad. Check out our comparison photos sizing up the Switch to the Wii U GamePad (part one and part two), or find out how to make use of ethernet without the dock and the best way to get alerts when new stock arrives.