Who is left on 'Dancing With the Stars'? A rundown of the final 4 couples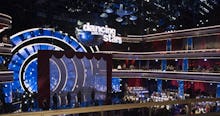 The semifinals are here, Dancing With the Stars fans, and that means the four best of the best contestants remain, or the best and the most popular, as is often the case. While the elimination wasn't terribly surprising, there were definitely a couple of double-take moments during Monday night's show.
Week eight was Trio Night, which means the contestants had to perform two dances — one regular routine with their partner, and one trio with their partner and one of Dancing With the Stars' younger dance company members. So not only did they have to do double dance duty, they had to work closely with an entirely new dancer. Needless to say, the pressure was on. 
At the end of it all, the bottom contestant was pretty obvious. Juxtaposed against the nearly perfect Normani Kordei, celebrity bull rider Bonner Bolton simply isn't on the same level. His Argentine Tango to "Believer" by Imagine Dragons earned him a mediocre 30 out of 40, and his Jazz routine trio to "That's What I Like" by Bruno Mars, apart from being more than a little sexist, left him with 28 out of 40 — the lowest score of the night. 
When he was eliminated, some DWTS fans took to Twitter to express their relief that the voting system finally seemed to be working properly.
So who's headed into the semifinals next week? Here's a look at the remaining four contenders.
David Ross and Lindsay Arnold
According to Len Goodman, David Ross' Waltz to Tim McGraw's "Humble and Kind" was his best dance to-date, scoring him nines across the board. And while his gladiator-style Paso Doble to 2WEI's "Gangsta's Paradise" was bold, it was also rather uneven, which then had Goodman saying he wished the show didn't have to end on that note. Yikes. Ross did show improvement from last week, however, thus earning him a spot in the final four. 
Based on his performances over the last eight weeks, Ross will probably be the first out of the semifinals, but that's to be expected considering the talent he's up against. 
Rashad Jennings and Emma Slater 
Rashad Jennings has always been in the middle of the pack, but his Argentine Tango trio to "Dreams" by Gabrielle Aplin and Bastille was a lot of fun, and almost earned him a perfect score. He's likely looking at third place in the winners' circle. 
Simone Biles and Sasha Farber
There's no denying this little Olympian packs a punch on the dance floor, but she just can't seem to snag perfect scores. Carrie Ann Inaba explained the reason why pretty perfectly — she's almost too perfect in her moves, which means there's not a ton of personality in her dancing. 
That said, Biles did prove she has some bite to her. After judges commented on her lack of the patented Biles smile in her second routine, she retorted "smiling doesn't win you gold medals." Damn right, girl. 
Normani Kordei and Valentin Chmerkovskiy 
Kordei just couldn't be caught this season. Despite her grueling tour schedule, she's regularly earned perfect scores, and Monday night was no different. Not only was her dancing on point, she hit a particularly emotional chord with her contemporary dance to "Freedom" by Anthony Hamilton and Elayna Boynton and scored a 40 out of 40. 
While anything could happen in the finale, Kordei looks like a safe bet to win the mirrorball trophy.
Mic has ongoing DWTS coverage. Please follow our main DWTS hub here.
A little later, temptress Witney joined the team for an Argentine Tango to "Dreams" by Gabrielle Aplin & Bastille. Scores of 10-9-10-10 from the judges for a total of 39.
(Get Emma's gorgeous DWTS glow now.
Normani Kordei and Valentin Chmerkovskiy