Spirit Airlines: Massive airport brawl breaks out after airline cancels 9 flights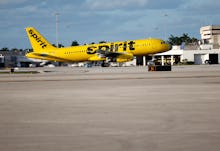 It hasn't been a great year for commercial airlines. 
A chaotic scene broke out Monday night at the Spirit Airlines counter at Florida's Fort Lauderdale-Hollywood International Airport when the budget airline announced it was canceling nine flights, leaving hundreds of passengers stranded, CBS News reported.
Twitter user Jose Rodriguez shared a video of the scene, in which angry passengers appear to push, shove and scream at each other before uniformed officers pull people apart.
A total of three people were arrested and one more was detained at the airport, WPEC reported.
According to CBS News, the canceled flights were a result of ongoing negotiations between Spirit Airlines and its pilots, who are in the midst of negotiating a new contract.
Spirit Airlines doesn't have a great track record for customer satisfaction. In 2017 it ranked last in a nationwide air travel survey for the third year in a row.
But lately, other airlines haven't been doing much better when it comes to public opinion. 
United Airlines has had a string of public mess-ups, including the violent dragging of passenger David Dao, who declined to give up his seat on an oversold flight in April, and the high-profile death of a rabbit who reportedly died on board an international United flight later that same month. Delta Air Lines, meanwhile, apologized after a video went viral of a family being kicked off one of its flights.