Anti-Muslim hate crimes rose 57% in 2016, new report says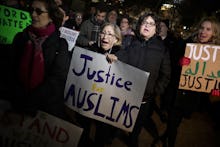 When members of the Islamic Community of Fort Pierce, Florida, woke up to their mosque set ablaze on Sept. 12, 2016, they witnessed their mosque become a part of a staggering statistic.
The Florida mosque became one of 2,213 anti-Muslim incidents in the United States in 2016, according to a Council of American Islamic Relations civil rights report released Tuesday. 
The report, titled The Empowerment of Hate, found that the number of anti-Muslim bias incidents rose 57%, up from 1,409 reported number of incidents in 2015. From 2014 to 2015, incidents rose 5%. For incidents reported as "hate crimes," CAIR reported a 44% increase from 2015 to 2016.
According to the report, Muslim bias incidents spiked 65% from 2014 to 2016 and hate crimes shot up exponentially with a 584% increase. 
The report also found an increase of anti-Muslim incidents involving government agencies from 314 and 293 in 2015 and 2014, respectively. CAIR reported 540 anti-Muslim incidents involving an government agency in 2016. The FBI had the largest number of complaints with 334. The Transportation Safety Administration and U.S. Customs and Border Protection followed with 80 and 67 reported complaints, respectively..
The report also found 17% of anti-Muslim incidents occurred in a residence or home, making it the most common location. Schools and colleges followed with 12% of incidents reported. 
According to Corey Saylor, co-author of the report and director of CAIR's department to monitor and combat Islamophobia, the report reflects a disturbing trend of rampant Islamophobia in the U.S.
"This report shows not only that anti-Muslim bias incidents have increased sharply, but also that there is a disturbing trend toward the increasing use of violence against American Muslims and those perceived to be Muslim," Saylor said in a statement.
The report's findings were released several days after CAIR announced a 1035% increase of anti-Muslim bias incidents at the U.S. border within President Donald Trump's first 100 days in office. In 2016, there were a total of 67 reported incidents with CBP and 17 of them occurred between January and March. That number shut up to 193 incidents between January and March 2017.
Saylor said that Trump's presidency has magnified the discrimination and violence Muslims endured for decades.
"I think for a long time the government has securitized Islam and looked at all Muslims as a potential threat, as indicated, by some of the [religious] questioning," Saylor said. "What this shows is that the problem has existed for some time, and within the first 100 days of Trump's presidency, we have seen a magnification of the problem."