'PlayerUnknown's Battlegrounds' Console Release Date: When is the game coming to PS4 and Xbox One?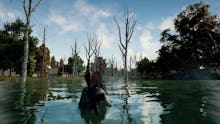 PlayerUnknown's Battlegrounds is a competitive, open-world shooter where you compete with other players to be the last person standing on a deserted — but oddly gun-filled — island. Although we haven't played it, it seems a lot like the film Battle Royale, just without the children or critique of Japan's school structure. 
It's only out for PC right now, but we might see the game get a PS4 and Xbox One release at some point.
PlayerUnknown's Battlegrounds console release date: The timeframe on a console port is pretty nebulous
According to Business Insider, Battlegrounds' developer Brendan Greene and his team are already thinking about a console port, with the hope that players might see it by the end of 2017. Business Insider cited a number of reasons for Greene's confidence in this matter. The most notable is that Battlegrounds uses Unreal Engine 4. The game's producer has managed to allocate enough resources around that they can focus on getting the full PC game done, while beginning to focus on how best to port the game to consoles. 
The good news is that Greene and Bluehole Studios are already considering how to get the game ported onto consoles for those of us without gaming PCs. However, even Greene is very careful about giving any approximate date: "We have no time frame yet exactly on Xbox [One] or PlayStation [4], but we are looking at it," Greene told Business Insider.
According to the game's Steam page, Battlegrounds is still in early access. Early access on Steam means that the game is purchasable at its retail price, and you can play it, but it's not complete. So we definitely won't see a console port before the game goes off early access on Steam. According to Business Insider, the full PC game could be completed within the next five months, but until that happens, we're not likely to see any more news about a console port.
More gaming news and updates
Check out the latest from Mic, including our deep dive into how female Overwatch players are dealing with online harassment, an article about a fan movement advocating for more same-sex romance options in Mass Effect, a cool making-of video for Legend of Zelda: Breath of the Wild and an article about what a Bechdel test for gaming might look like.