Here's how you can make $500K coming up with the next Oreo flavor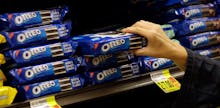 Oreo is offering a half-million-dollar bounty to whomever can come up with the best new flavor, and social media is already abuzz with new suggestions ranging from the conventional (key lime) to the eccentric (tangy barbecue?) and everything in between. 
Have a dream flavor in mind — that will win hearts and minds, and make you $500,000 richer? Throw your hat in the ring by posting on Twitter or Instagram with the hashtag #MyOreoCreation and #Contest or by replying to one of the brand's social media posts.
There's also the option to submit an idea via text message, and an online submission form that will open later in May. You can enter one unique submission per person per day. Three finalists will be selected by late August based on on three criteria: taste appeal, creativity, and originality.
Oreo will do a limited run of three winning options and then U.S. consumers will select the ultimate winner. You don't need to win the final round to cash out, as all the finalists will receive a $25,000 prize. Need inspiration?
Here are some of the best ideas from Mic staffers:
The Oreo competition recalls Lay's Do Us a Flavor promotion, which offers fans a $1 million prize for coming up with a new potato chip flavor. That contest is in its fourth year, with past finalists including "Fiery Roasted Habanero" and "Smoked Gouda and Chive."
If you're going to have a go at a flavor idea, think carefully. Lifehacker has some solid advice: The winning strategy is to aim for something with broad appeal, but that is arguably unique — and can be marketed year-round. In other words, try to resist the urge to pitch something that will tie to the summer or to the holidays, and ignore your urge to pitch a foie gras peach jam flavor.
Tapping recent food trends has also proved a winning strategy in the past regardless of the outcome. Past winners of Lay's contest included potato-chip odes to Truffle Fries, Gyros, and, of course, Sriracha. 
Submissions for the Oreo contest will close on July 14, and you'll be able to check for the winners here. 
Sign up for The Payoff — your weekly crash course on how to live your best financial life. Additionally, for all your burning money questions, check out Mic's credit, savings, career, investing and health care hubs for more information — that pays off.